Niseko is a world-famous powder destination renowned for its incredible snow conditions, delectable local cuisine, variety of things to see and do, and of course luxury accommodations. The geothermically-rich ski resort area also lends itself to natural underground onsens, or hot springs, some of which are piped into hotels, chalets, and villas, providing guests with their own private onsen.
We have put together a list of Niseko accommodations with private onsen, Jacuzzi / hot tub, or hinoki style bathtub to help you choose the best Niseko accommodation with onsen bath for your stay.
Niseko Accommodations with Private Onsen-Style Bath
There are a number of luxurious Niseko hotels chalets, apartments, and holiday homes which have their own onsen-style bathroom, allowing you to soak your weary muscles after a long day on the slopes without having to leave your own front door.
Akatsuki Niseko
Akatsuki Chalet is a 5-bedroom chalet conveniently located in Middle Hirafu Village and features a Japanese Hinoki (wooden) bathtub complete with 2 onsen-style stools and showers. Akatsuki Chalet's bath does not feature true onsen mineral-rich water, but it does provide a Japanese-style bathing experience.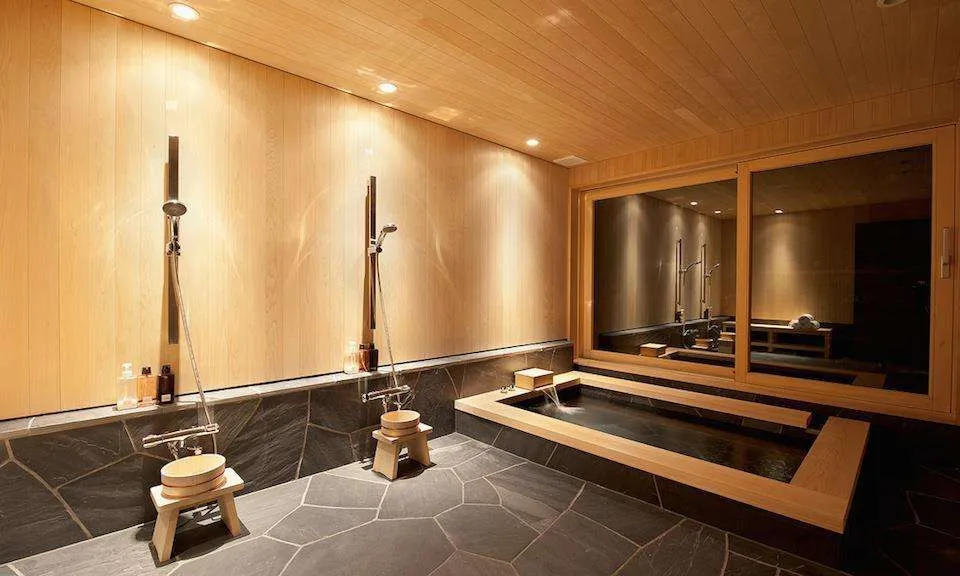 Annabel Niseko
Annabel Chalet is a luxury 6-bedroom chalet in Niseko East Village complete with a gorgeous Japanese sauna-style bath.
Greystone Niseko
One of the few 7-bedroom accommodations in Niseko, Greystone Chalet sleeps up to 18 guests in comfort. The large premium and very popular Lower Hirafu Village chalet has a beautiful onsen-style bathroom complete with stools and showers.
Kasetsu Niseko
Kasetsu House is a Lower Hirafu Village, 6-bedroom luxury house with its own Japanese style bathtub, and enough space to spread out in style.
Panorama Niseko
Panorama Niseko is a collection of stunning 5-bedroom villas, each with their own indoor and outdoor rotenburo, or Japanese-style bath. Panorama Villas are located just outside of Hirafu Village.

Setsugetsu Terrace
The 4 bedroom penthouse apartment at Middle Hirafu Village's Setsugetsu Terrace has a wonderful large hinoki tub which offers incredible views of Mt. Yotei. Guests can book either the 4 bedroom penthouse apartment, or the whole apartment block (studio + 3 bedroom + 4 bedroom) to accommodate up to 17 guests.
Soseki Niseko
Offering unbeatable Mt. Yotei views, Soseki House is a luxury 6-bedroom Lower Hirafu Village house with private onsen-style bath and other Japanese-inspired finishing touches.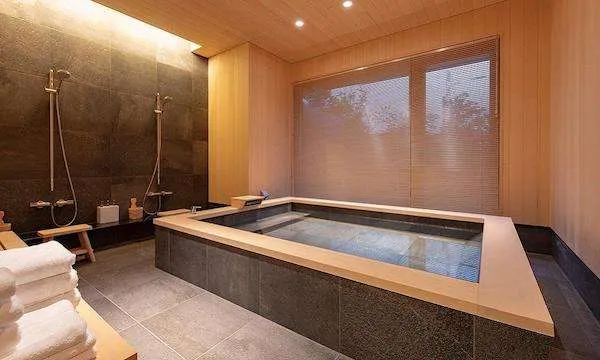 Tamo Niseko
Tamo Townhouses are 5-bedroom Japanese-inspired homes in a convenient Middle Hirafu Village location. Each one features a beautiful hinoki bathtub room for the perfect soak after a long day.
Terrazze Niseko
Terrazze's 4 Bedroom Mt. Yotei Panorama Penthouse apartment has a traditional onsen-style bathroom with hinoki wood tub, 2 washing stools and stunning Mt. Yotei views. Terrazze is located in Middle Hirafu Village.
Tsubaki Niseko
Tsubaki Chalet is a Lower Hirafu Village beautiful 4-bedroom timber chalet with authentic Japanese style hinoki tub and complimentary 4WD vehicle for peak winter bookings.
The Vale Niseko
The Vale Niseko has 8 different apartment types which include their own private outdoor onsen. Select the bedroom type which includes "with onsen" in the description for your own private outdoor heaven, as well as ski in ski out access to the Grand Hirafu lifts.
Niseko Accommodations with Jacuzzi Tubs / Hot Tubs
Second only to the onsen-style bath is a Niseko accommodation with hot tub or private Jacuzzi. There are quite a few in the Niseko area.
Glasshouse Niseko
Glasshouse luxury 5 bedroom Lower Hirafu Village 'beach house in the snow' has a private outdoor Jacuzzi offering majestic Mt. Yotei views.
Gustav's Hideaway Niseko
Gustav's Hideaway is located in a quiet part of Lower Hirafu Village. The 4 bedroom holiday house has an outdoor hot tub exclusively for guest use.
Kazahana Niseko
Kazahana Chalet offers 6 bedrooms of luxury in a convenient Middle Hirafu Village setting. The stunning chalet has a private outdoor hot tub and sleeps up to 13 guests in comfort.
Kozue Niseko
Kozue is a Niseko apartment complex centrally located in Middle Hirafu Village. 2 of Kozue's apartments have Jacuzzis on their private terraces.
The Setsumon Niseko
Just like Kozue above, The Setsumon has a few apartment options which have their own private outdoor Jacuzzi. The Setsumon is located in Upper Hirafu Village.
Snow Crystal Niseko
Snow Crystal apartments not only offer immediate lift access to the Grand Hirafu lifts, but a few also feature their own private outdoor Jacuzzi tubs.
Tanoshii Chalet
Tanoshii Chalet Niseko is a cozy little retreat set in Niseko East Hirafu Village with its own private outdoor hot tub, perfect for a soak after a long day on the slopes.
Niseko Accommodations with Public Guest Onsen
There are several accommodations in Niseko which have their own public onsen for guest use. Sometimes they are exclusive to guest use, and sometimes they are open to other non-hotel guests.
AYA Niseko
AYA Niseko onsen is available to guests at the accommodation and features an indoor and outdoor onsen as well as private family baths which you can reserve in advance. AYA Niseko is located in Hirafu Village.
Chalet Ivy Niseko
Located in Hirafu Village, Chalet Ivy has an onsite onsen which only Chalet Ivy hotel guests are allowed to use.
Green Leaf Hotel Niseko Village
The Green Leaf onsen is open to the public and during certain hours can be used by non-hotel guests. As the name suggests, the Green Leaf is located in Niseko Village.
Higashiyama Niseko Village, a Ritz-Carlton Reserve
The Ritz-Carlton Hotel in Niseko Village has an onsite onsen and spa for Ritz-Carlton Hotel guests only.
Hilton Niseko Village
Like the Green Leaf, the Hilton Niseko Village onsen is open to the public for a fee.
The Vale Niseko
While The Vale's onsen used to be open to the public, these days it is reserved exclusively for Vale guests. The Vale Niseko offers ski in ski out access to the lifts.
If having an onsen or hot tub at your own Niseko accommodation is a bit too much of a splurge, check out our Niseko Onsen Guide for a list of our top recommended onsens in Niseko that you can visit during your stay.
Get in touch with us now to book your next Niseko ski holiday!