The Hakuba Valley is well-known for its majestic snow capped peaks, incredible powder dumps, steep alpine terrain, and Winter Olympics infrastructure. Skiers and boarders have flocked to the famous Nagano ski resort for decades, drawn by the enchanted winter landscapes, amazing terrain, and steaming hot springs.
Perhaps less well known – at least for visitors from abroad – is the grandeur and beauty of Hakuba's Green Season. Start with the stunning Japan alps as a backdrop, add in a pinch of culture, a splash of adventure, and a dollop of local cuisine and you've got your recipe for absolute summertime bliss.
While many of us are waiting eagerly for the opening of the 2021/22 Japan ski season; albeit one which is speckled with uncertainty, we can whet our appetite and discover some of the best Hakuba Green Season activities, some of which are also available during winter. Here is a list of our top five Hakuba summer activities, in no particular order:
Hakuba Valley Trekking, Hiking & Mountain Climbing
Perhaps the most significant Hakuba green season pursuit, long popular with the domestic market, is the expansive hiking and trekking opportunities available in the Hakuba Valley. Outdoor enthusiasts can choose anything from multi-day mountain trekking across the peaks, to splendid hikes in the valley below, and everything in between.
From the impressive mountain range to the interspersed lakes, accessible boardwalks, and observation decks with tremendous views, hiking in the Hakuba Valley does not disappoint, no matter your level of experience.
Photo courtesy of Hakuba Valley.
Adventure
Hakuba Valley is a thrill-seekers paradise. Adventurers can choose from ziplining, slackline, treetop adventure courses, climbing, mountain biking, paragliding, rafting, canyoning, hot air ballooning, and more!
There are various adventure parks across the Hakuba Valley, such as Hakuba 47 Mountain Sports, Cortina Adventure Land, and Tsugaike Wow, or book through Evergreen Outdoor Center or Hakuba Lion Adventure.
Photo courtesy of Hakuba Lion Adventure
Explore the Surrounding Area
The beauty and fascination of the Hakuba Valley and surrounding area cannot be understated. Head off in any direction and you're bound to discover something truly amazing. A curry house set deep in the mountains. An antique & curiosity shop in a historic village. A pristine lake set at the foot of the mountains. Or, make a plan and set out with a goal. For example, visit the beautiful Matsumoto Castle, a little over an hour's drive from Hakuba Ski Resort. Take a paddle in the stunning Lake Aoki, or snap a pic as you walk across the Oide No Tsuribashi suspension bridge. Hit up one of the three traditional sake breweries in Omachi, or take a day trip to Nagano city's famous and historic Zenkoji Temple, bound to delight.
Matsumoto Castle
Hakuba Mountain Harbor
One of the most exciting new attractions to open in Hakuba in the last couple of years is Hakuba Mountain Harbor. Located at the top of Hakuba Iwatake Ski Resort and accessed by the Iwatake Gondola, Hakuba Mountain Harbor offers guests a breathtaking panoramic view of the Northern Japan Alps from a terrace.
Accompanying this magnificent view is the City Bakery, offering mouth-watering pastries, sandwiches and coffees. Visitors can also take a swing on the adjacent Yoo-Hoo! Swing, Japan's tallest swing!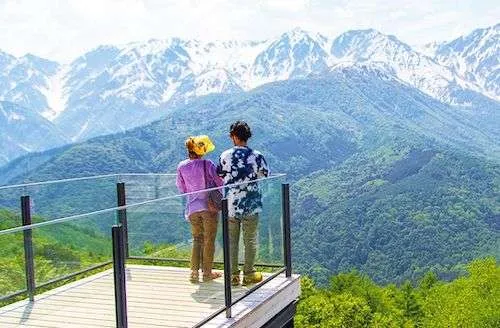 Photo courtesy of Hakuba Valley.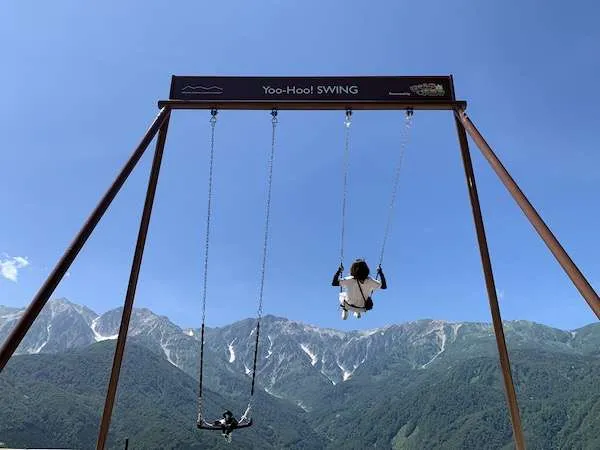 Photo courtesy of Hakuba Valley.
Onsen
No matter the season, when you are visiting Hakuba, Japan, a trip to an onsen, or natural hot spring, is not to be missed. In fact, we suggest a daily trip, or, better yet, choose a Hakuba accommodation which has an in-house onsen, like the Hakuba Mominoki Hotel, or Hakuba Tokyu Hotel. Or, take a trip to a Hakuba Onsen with a view, such as the Tenjin no Yu onsen in the Hakuba Highland Hotel, which overlooks the stunning Hakuba mountain range. No trip to Hakuba is complete without a therapeutic soak in the alkaline waters of a natural onsen. Check out our Hakuba Onsen Guide for a list of our top ten best onsens in Hakuba!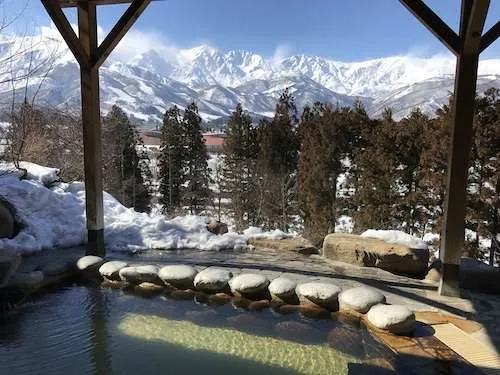 While we all eagerly await the long-anticipated Hakuba ski season, adventure awaits no matter the time of year in Hakuba, Japan.