Japan Ski Experience was born out of a passion for skiing and snowboarding in ski resorts across Japan. Our company's founders lived and travelled in Niigata, Nagano, Yamagata, Fukushima and Hokkaido prefectures, and have spent more than 20 years exploring Japan ski resorts. As independent Japan ski holiday specialists, we are trusted by 680 past guests.
Choosing the best ski resorts in Japan is largely a matter of personal preference, but we have used our local expertise to select the best 4 Japan ski resorts for international skiers and snowboarders. While local skiers and snowboarders flock to resorts which are great after a fresh dump of snow and have enough terrain for a single day, holidaymakers will prefer Japanese ski resorts that offer reliable snow conditions throughout the season and enough terrain for a week or more of skiing or snowboarding. Below are the 4 best Japan ski resorts to visit for a ski holiday, and we have provided a summary of each, together with some pros and cons, to give you a sense of which is the best Japan ski resort for you!
Japan's Best Ski Resorts Head to Head!
NISEKO UNITED, HOKKAIDO
4 interlinked ski resorts, famed for unbeatable quantity and quality of powder snow, Niseko United is Japan's most popular ski area.
---
Top Lift 1,200 Metres
30 Lifts
81 Courses
940 Metres Vertical
15+ Metres Annual Snowfall
Ikon Passes Accepted
Excellent Off-Piste
Price Range: ¥¥ - ¥¥¥¥¥
Pros: unbeatable powder, lively resort town, great facilities, international vibe, Youtei views
Cons: busier than most Japanese resorts, not an off the beaten track experience
DISCOVER NISEKO
HAKUBA VALLEY, NAGANO
Comprising 10 ski resorts, Hakuba Valley is the largest ski area in Japan with varied terrain and spectacular scenery.
---
Top Lift 1,830 Metres
102 Lifts
138 Courses
1,071 Metres Vertical
12+ Metres Annual Snowfall
Epic Passes Accepted
Good Off-Piste
Price Range: ¥¥ - ¥¥¥¥¥
Pros: variety of terrain, traditional and international resort areas, mountain scenery, cultural experiences
Cons: best experienced if you take the shuttle or drive around rather than staying in one place
DISCOVER HAKUBA
FURANO, HOKKAIDO
Bluebird powder is on offer at this family friendly Hokkaido ski resort renowned for its immaculate groomers and newly opened off-piste.
---
Top Lift 1,074 Metres
9 Lifts
28 Courses
839 Metres Vertical
8+ Metres Annual Snowfall
Kids Ski Free
Some Off-Piste
Price Range: ¥ - ¥¥¥¥
Pros: great for families - under 12s free!, bluebird powder, easy groomers, quiet runs
Cons: limited advanced terrain, not a large resort by international standards
DISCOVER FURANO
RUSUTSU, HOKKAIDO
Winner of 'Japan's Best Ski Resort' for 4 of the past 6 years, Rusutsu's deep powder and superb conditions could make it the resort for you!
---
Top Lift 994 Metres
18 Lifts
37 Courses
594 Metres Vertical
13+ Metres Annual Snowfall
Epic Passes Accepted
Excellent Off-Piste
Price Range: ¥¥¥¥
Pros: great terrain and snow conditions, ski in ski out accommodation, Youtei views and fewer crowds
Cons: lacks a classic ski resort town
DISCOVER RUSUTSU
Where are Japan's Ski Resorts Located?
Japan Ski Resorts Maps
Have you ever wondered where in Japan most ski areas are located? There are currently 466 operating ski resorts in Japan, with the largest number being in the northernmost prefecture of Hokkaido, followed by Nagano and Niigata on mainland Japan. Here are two maps showing Japan ski resort locations by prefecture.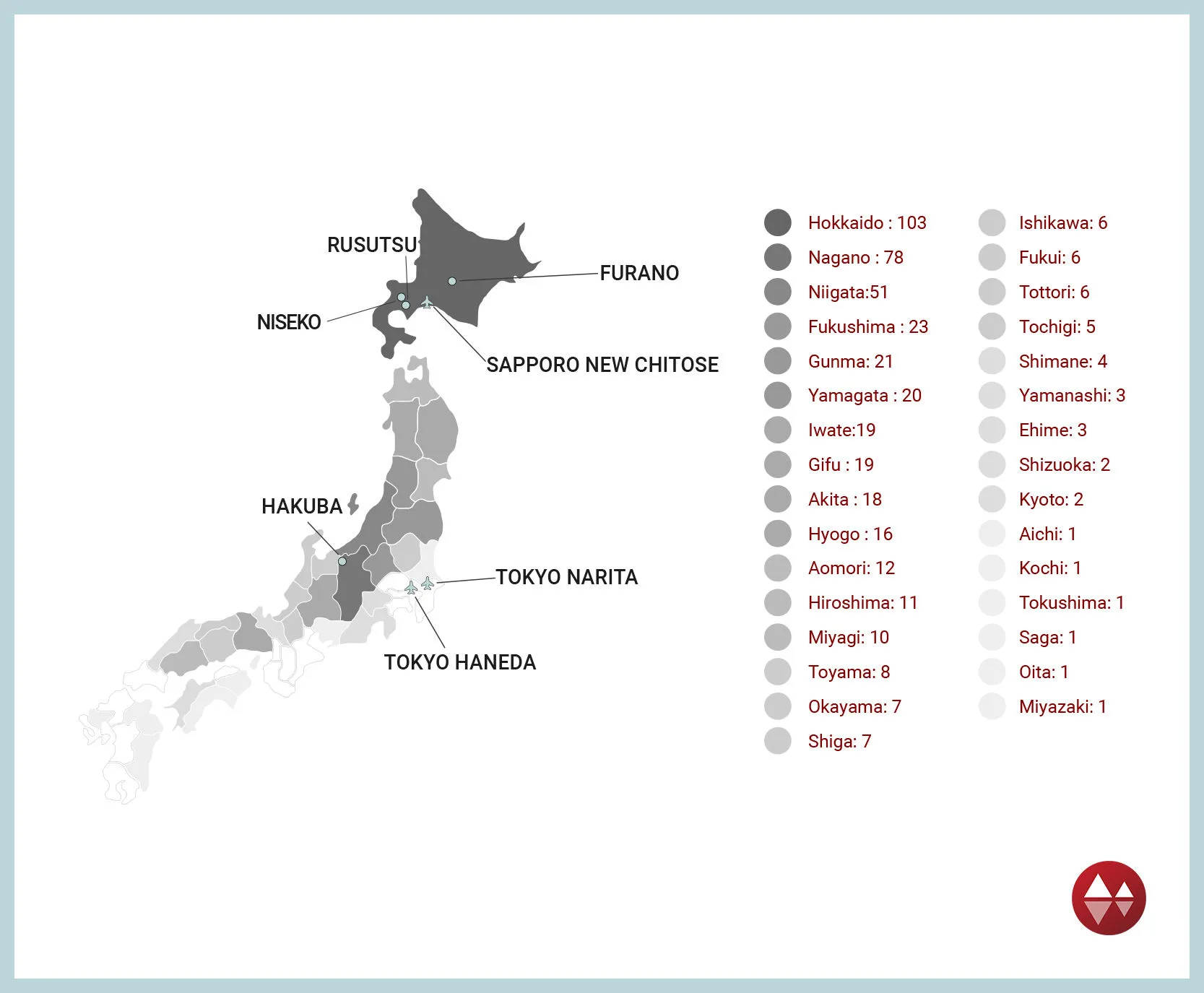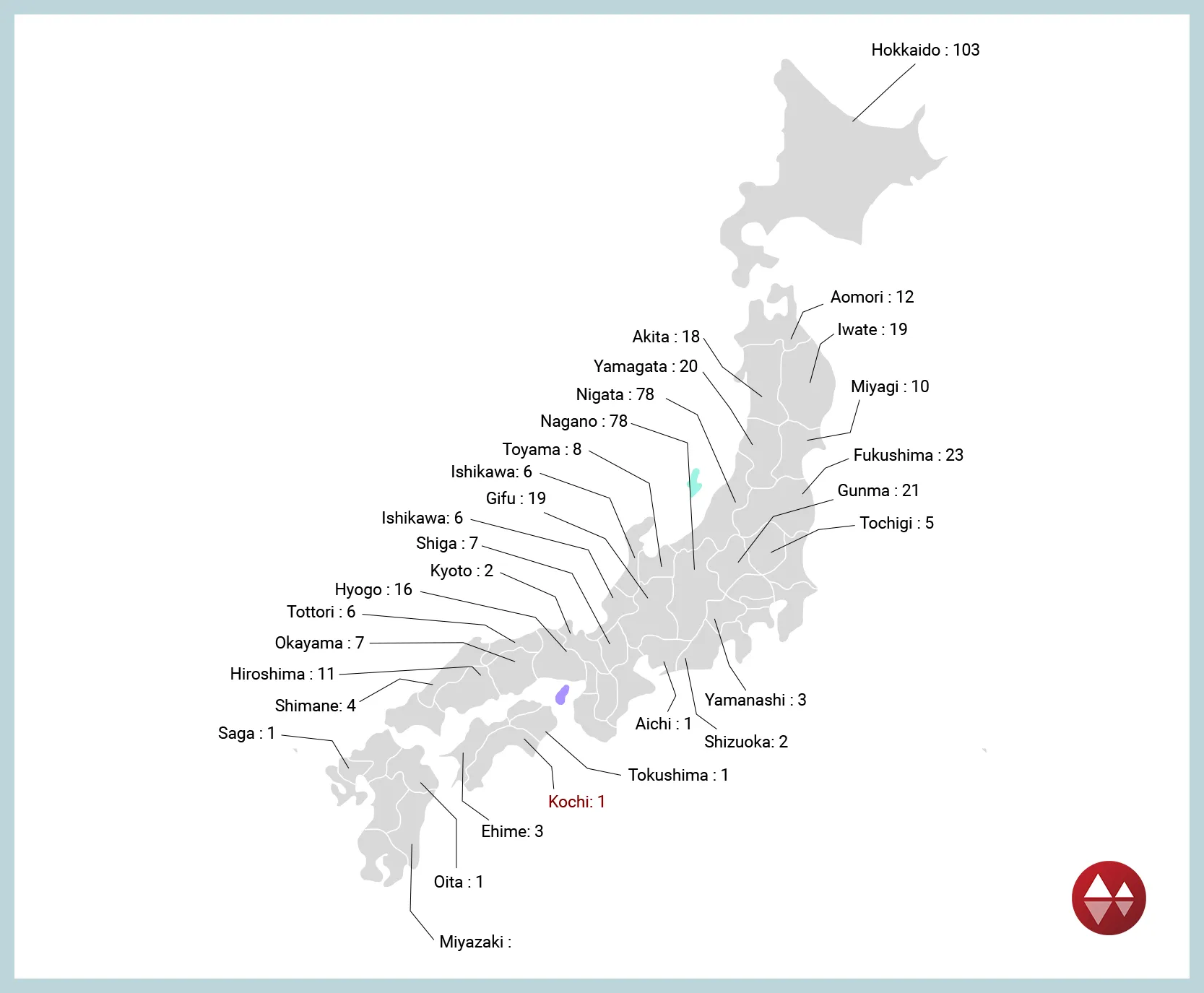 HOKKAIDO SKI AREAS
Of all prefectures, Hokkaido has the most ski resorts. Being the northernmost area of Japan, it is the coldest and virtually the whole island is covered in snow throughout winter. Winds from Siberia sweep across the Sea of Japan bringing huge snow dumps, which result in about 11 meters of snowfall per winter at sea level! Excellent ski resorts therefore exist at incredibly low altitude, with the most famous of them all, Niseko starting around 260 meters.
So, with over 100 ski resorts, why are only a handful talked about? The answer lies in the fact that Hokkaido is not the most mountainous part of Japan and in fact, only a handful of ski areas have peaks above 1000 metres, with many Hokkaido ski resorts being more accurately described as ski hills, reaching maximum heights of only a couple of hundred metres. This could be the best place in the world to ski or snowboard if you suffer from altitude sickness, or enjoy a sea view!
Niseko, Furano and Rusutsu benefit from Hokkaido's outstanding powder snow conditions, and offer both elevation of around 1000 metres with a good number of courses, providing both the snow and the terrain needed to be a great ski holiday destination. Kiroro and Sapporo Teine each have 10 ski lifts, and while they offer outstanding off-piste powder, these resorts are arguably better visited on a day trip from a larger resort than as a primary destination (which is something Japan Ski Experience will be happy to arrange for you!).
What are the pros and cons of skiing in Hokkaido?
With the main disadvantages being the lack of big mountain terrain and the distance from Tokyo, the advantages of skiing and snowboarding in Hokkaido can be summed up as offering the chance to experience the best powder snow in the world across resorts which have developed world class infrastructure, stunning accommodation options and which are accessible to English speaking travellers. Epic Pass holders may want to head to Rusutsu, which is the first Hokkaido ski resort to accept the Epic pass.
Spectuacular Youtei Views

World's Best Powder Snow
NAGANO SKI AREAS
The mountainous regions of North and West Honshu receive huge volumes of snowfall, blown across from the sea of Japan. As in Hokkaido, many Honshu resorts sit at low altitude close to the coast and benefit from incredible snowfall, but during milder winters lower altitude resorts offer less reliable conditions than is the case on northerly Hokkaido. On Honshu it is therefore best to travel to ski resorts which sit at the highest altitudes, which is where Nagano's big mountain terrain makes Nagano ski resorts like those found in Hakuba Valley the best option on mainland Japan.
There are many fantastic ski resorts in Nagano including Nozawa Onsen and Shiga Kogen, but the resort we have chosen to offer is Hakuba Valley which comprises 10 ski resorts (Jiigatake, Kashimayari, Sanosaka, Goryu, Hakuba 47, Happo One, Iwatake, Tsugaike, Norikura and Cortina). With its towering mountain peaks, together with excellent infrastructure and superb accommodation options, Hakuba Valley is a huge draw for international skiers and snowboarders. Just as Hakuba was the main host of the Winter Olympics some 25 years ago, it offers the best choice of any Nagano ski resort for holiday makers.
What are the pros and cons of skiing in Nagano?
While the snowfall in Nagano ski resorts is not as plentiful as ski resorts in Hokkaido, it is tricky to list this as a disadvantage since Nagano still offers better powder snow conditions than the vast majority of ski areas in the world. There are also plenty of advantages of Nagano skiing, which many rate as superior to Hokkaido. It is a vast region of towering mountains known as the Japanese Alps abundant in natural hot-springs and cultural heritage. The high altitude offered in this part of Japan gives rise to a huge amount and variety of ski terrain – from gentle beginner runs to steep and deep pitches. You can ski and snowboard some of Japan's best ski resorts, and visit places like Matsumoto Castle, Nagano Zenkoji Temple, the Jigokudani snow monkey park and Nozawa Onsen Fire Festival while staying in Nagano. Epic Pass holders will love Hakuba Valley, as the Epic Pass can be used across all 10 ski resorts.
Traditional and Mountainous

Variety of Ski Terrain

Snow Monkeys
Ski Resorts Near Tokyo
Of the resorts we offer, Hakuba has the shortest transfer time from Tokyo as it can be accessed within about 3.5 hours by bullet train to Nagano followed by a local bus to Hakuba. If you have a few nights to spare, then it is more than worth the distance, with Hakuba Valley offering some of the most extensive terrain and most reliable snow conditions of any ski area on mainland Japan.
If you would like to find the ski resorts closest to Tokyo, then it may be tempting to look at neighbouring prefectures on the Japan ski resorts map. Sayama ski resort in Saitama is the closest ski area' located only 40 minutes away from Ikebukuro. It is an indoor resort which may be worth a visit if you are learning your first turns. Neighbouring Yamanashi Prefecture offers the ski resorts of Kamui Misaka and Fujiten Snow Resort each with about 200 m of vertical ski runs and 4 lifts.
But if you want to experience real Japan ski resorts from Tokyo you should head slightly further afield to the area of Yuzawa in Niigata prefecture, otherwise known as 'snow country'. Luckily, thanks to the superb Japanese bullet train system, this area is extremely accessible and is by far the best option for a day or two of skiing or snowboarding from Tokyo. The Joetsu Shinkansen connects skiers and snowboarders from Tokyo to Yuzawa quickly and easily. Gala Yuzawa Snow Resort is especially popular with Tokyo dwellers due to the fact that it has its own bullet train stop which can be accessed within 90 minutes from central Tokyo on the Tanigawa Express. For this reason however, Gala can also be more crowded than other Yuzawa ski resorts.
As well as the Tanigawa Express, the Joetsu Shinkansen line offers the Toki Express to Echigo Yuzawa which can take as little as 74 minutes from Tokyo / 69 minutes from Ueno, and from here it is a very short transfer to several excellent Yuzawa ski resorts. Ishiuchi Maruyama provides a fantastic alternative to Gala with far fewer crowds and is located just a 10 minute taxi ride from Echigo Yuzawa bullet train stop. If you have the option of travelling 20 to 30 minutes from Yuzawa town, Naeba and Kagura ski resorts offer vast terrain, breathtaking scenery and fantastic snow conditions.
Joetsu Shinkansen

Echigo Yuzawa Town

View from Gala Yuzawa
If you're interested in more details on any of the ski resorts that we haven't covered above, we recommend checking out the Snow Japan website which provides details on every one of the 466 resorts still in operation, and is the most comprehensive resource on ski resorts in Japan we know of!
Book with Us
Across the best Japan ski resorts, we offer the chance to book accommodation including the latest early bird deals, together with resort services to create your perfect ski holiday package. If skiing and snowboarding in Japan is on your bucket list but you are not sure which is the right resort for you then ask our team of Japan ski resort specialists who are here to provide all the information you need.
DONE
2023-24 EARLY BIRDS OPEN
Niseko and Hakuba bookings have now opened for next season, with discounts of up to 30% for a limited time only!