Niseko Beyond the Boundaries
Out of bounds: three words that make some skiers and snowboarders feel a bit nervous. Not being confident off-piste, or not being sure where you're going can put a lot of people off venturing outside the resort boundaries. Although backcountry areas should always be given the utmost respect, some are easier to access than others. Niseko, Japan is already famous for its consistent, quality snowfall, but the number of lift-accessible out of bounds areas is also nothing to scoff at. Each of the four Niseko United resorts has backcountry areas accessible through specially monitored "gates". Going through for the first time can be daunting, so we have taken the time to ease you into things below.
Safety First
In the right conditions, which are often prevalent, Niseko off-piste can be a skier and snowboarder's dream; waist-deep, untracked lines and most without the need for any hiking. This being said, there is always an element of danger and several precautionary measures should always be taken. The Niseko United ski area rules recommend always wearing a helmet and carrying an avalanche beacon, but carrying a beacon is only part of the full backcountry package, and a shovel and probe should be packed as well. Along with bringing this equipment, the user should also be fully versed on it's usage. Ski patrol for each resort do inspect these out of bounds areas each day and only open the gates when conditions are deemed safe enough, but there are never any safety guarantees. Carrying the right equipment prepares you for the worst case scenario and allows you to enjoy your day in some of the best snow conditions in the world, with a little peace of mind.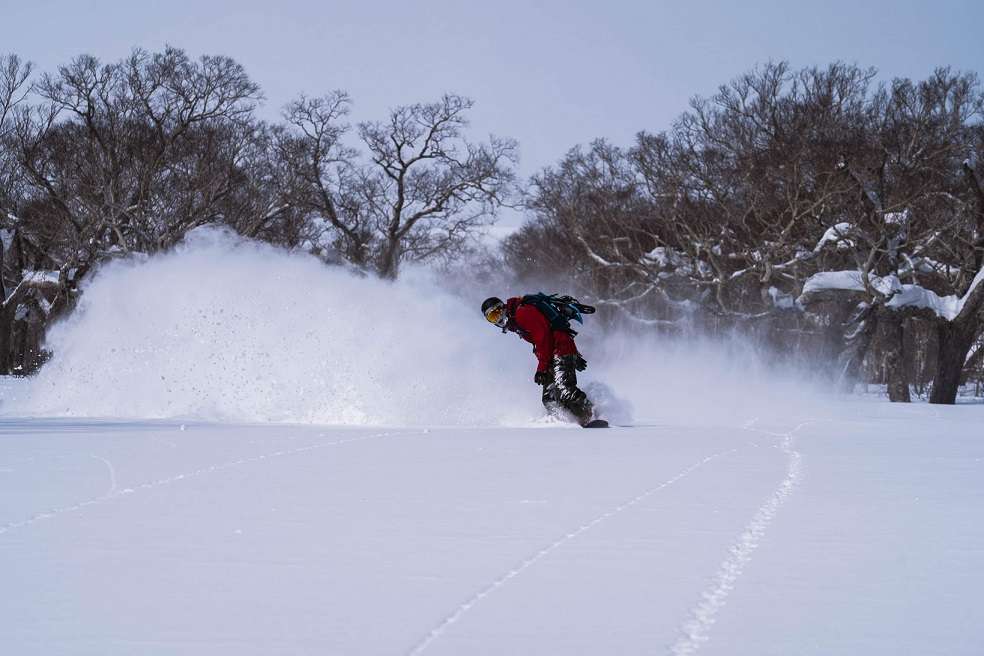 Niseko Backcountry Guides
It all sounds a little scary, but there is no need to go alone. While skiing/snowboarding with a friend or two is always recommended, there are several operators providing in-resort guiding. These guides have a wealth of knowledge on the Niseko United resort as well as abundant experience in backcountry areas. Companies such as Powder Detours,  Hokkaido Powder Guides and Hanazono Powder Guides are the perfect place to start your backcountry adventures. Both can provide you with any equipment necessary, so let them worry about the snowpack and weather conditions, leaving you to focus on enjoying an epic day! When you book accommodation with Japan Ski Experience, you can easily add backcountry guiding to your Japan ski package.
Niseko Backcountry Gear
For those looking to venture out themselves, but find themselves lacking equipment, a quick trip to Rhythm Niseko is all you need. All equipment is available for hire, with rates getting cheaper the longer the rental period. With backcountry equipment being relatively expensive to buy, this is a great way for guests to gain experience without breaking the bank!
Niseko Backcountry Gates
Onto the gates themselves. All four resort areas have gate accessible out of bounds of areas, so for ease of understanding we have split these into their respective areas. Take a look at the Niseko United Trail Map, which marks each of the gate entrances.
Niseko Annupuri Gates
Niseko Annupuri is a favourite amongst locals, offering incredible backcountry access and cruisy groomers. Gates are marked by black diamonds on the Niseko Annupuri trail map.
L-Ji Gate (Gate 1)
As the number suggests, this was the first gate to be opened in the Niseko area. Accessible from the top of the Jumbo #4 lift, this gate is easy to get to and relatively hard to get lost. Nearly all lines lead into the same valley, so as long as you stay out of the very bottom, you should have no problem exiting back into the resort. With access being so easy though, it can get tracked quite quickly, so make sure you're up for first lifts!
Annupuri Peak (Gate 2)
A personal favourite of Japan Ski Experience staff, Gate 2 is also accessible from the top of the Jumbo #4 chair. To access the best areas a small hike is required and you can go as high as you like, but dropping straight in is also ok. The peak of Mt Annupuri is accessible from this point, but is a long trek, so those looking to venture here are better off accessing from the top of the "Pizza Box" chair in Hirafu. The wind can be strong at the edge of the bowl as it is relatively unsheltered, so be sure to take care when hiking.
The gate provides access to the Osawa bowl and the snow here can be fantastic. Traversing across the next ridge to the other valley is possible, but traversing across open faces is rarely recommended. The bowel leads down to a natural halfpipe, which runs out and exits back at the bottom of the Annupuri Ski Resort. As with the other gates, it is best not to ride the very bottom of the valley as you can lose speed easily and end up stuck!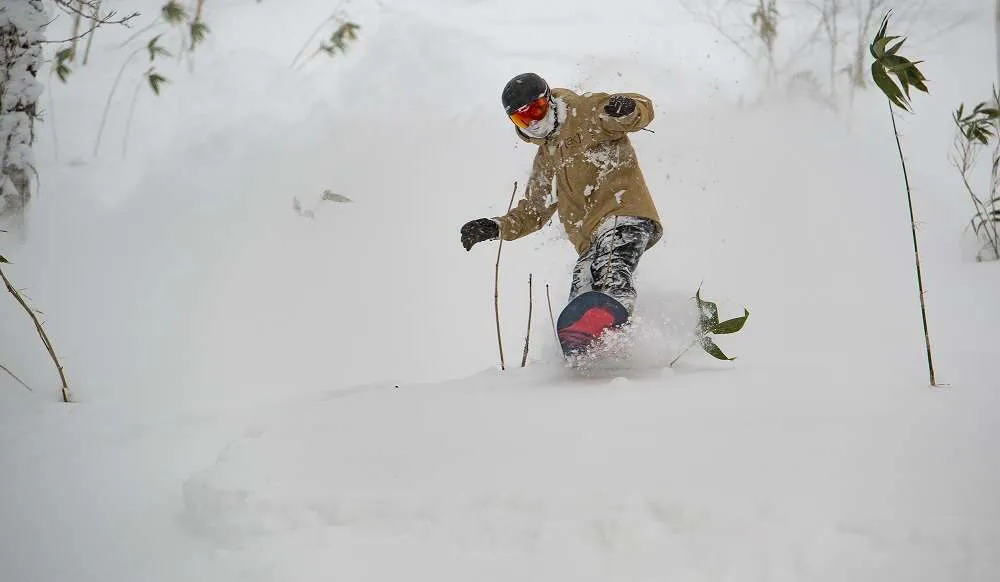 Hachi Ban (Gate 8)
Gate 8 provides the last entry point into the Osawa bowl and offers a more mellow pitch. All lines here are tree runs, so although the pitch is a little more beginner friendly, only those comfortable riding in tight spaces should enter. It is strongly recommended that you do not traverse round to the opposite cornice slopes, as this can trigger avalanches.
With the location lower down the mountain, Gate 8 is a great option on days when the wind may be strong, or visibility poorer as it can be accessed from the top of the Annupuri Gondola, without the need to take the Jumbo #4 lift. The area remains relatively sheltered as well, which helps to keep the snow light and fluffy throughout the day!
E-Sawa (Gate 7)
Possibly one of the most intermediate friendly gates in the resort. Entry can be gained from the Jumbo #2 lift, so again this is a great choice for days when weather higher up the mountain is a little wild. Gladed runs, open powder fields and natural half pipes are all on offer here, with mellow and steeper sections depending on your mood. All lines lead down to the bottom of the resort, so the area is relatively safe and a great introduction for those starting their backcountry experiences.
Ropes along the skiers left portion of the gate mark the boundary to the permanently closed Yu no Sawa area. Under no circumstances should you duck these ropes, and failure to abide by these rules can lead to confiscation of your lift pass and at worse, serious danger to your personal safety.
Niseko Village Gates
It is most known as a family friendly resort offering some of Niseko's best ski in ski ski out hotels and family activities, but there is more to Niseko Village than meets the eye. Backcountry gates are marked by black diamonds on the Niseko Village trail map.
Mizuno no Sawa (Gate 11)
Ah, gate 11. A firm locals favourite and for very good reason. One of the only in-bounds gates in the resort, Gate 11 provides a variety of terrain for intermediate and advanced riders. Accessed using the Niseko Village Gondola, riders can take a left and ski down to the base of the Wonderland Chair. Opposite this is a small uphill slope with an, unfortunately rarely operating, small drag lift. A short hike up will bring you to the entrance to Gate 11 on your left. There is a bit of a skate to access the slope, so be sure not to tire yourself out before you get there!
Lines to skiers left offer open powder feels, followed by gladed runs; all at a pleasant pitch. Skiers right offers perhaps some of the best steeper slopes in the resort. Wind loading means turns can be deep, and with access running all along the ridge, there are plenty of lines to choose from. With wind loading though does come the formation of cornices. Be sure to take extra care when entering these steeper areas, as cornices can break away easily.
The gate area runs parallel to the permanently closed Haru no Taki area. As with all permanently closed areas in the resort, ducking ropes and entering these areas puts not only yourself, but rescue staff in great danger. Stay within the designated zones though, and all runs lead back to a gully and exit onto the lower slopes of the Niseko Village Resort. Turns here are so good, you're guaranteed to want to go back for more.
Grand Hirafu Gates
The resort towering over Hirafu Village where the bulk of Niseko accommodation is based, Grand Hirafu Resort is often the first to get busy, but that doesn't mean you won't find untracked lines or hidden gems. Backcountry gates are marked by black diamonds on the Grand Hirafu Resort trail map.
Hirafu Peak (Gate 3)
The Hirafu accessed Mt Annupuri peak is one of the most popular gates in the resort and represents the highest point across the four resorts. Time your hike well and you may even get a glimpse of the sun, bringing fantastic views and a great opportunity for photography enthusiasts. Not to worry if the sun doesn't come out though, as chances are the run down will make up for it!
From the peak it is possible to access North, South, East and West facing slopes, but not all lead back to the resort, and some lead to other resort areas. If you are unfamiliar with the resort, it is highly recommended to use a guiding service. The easiest run out is down the East Ridge down towards Hanazono. You can enter the Gate 5 area and end up back at the bottom of the Hanazono #3 chairlift.
Those more adventurous can head further left towards the famous "Jackson's Cornice" and drop from here. Be sure not to drop directly off the cornice, or spend any amount of time directly underneath, as this cornice can crack and trigger avalanches. Heading further this way though leads to less tracks and deeper snow. The top sections are open and at the perfect pitch, with lower sections getting steeper with more trees. For this reason we recommend only confident skiers and snowboarders take this line. Tracks will lead down to a summer access trail and, a short 10 minute walk later, to the resort area below the bottom of Hanazono #3. The hike up can certainly be tiring, but after the run down we are sure you'll be thinking of going up again!
The Annupuri Back Bowl, which is accessed off the South, South-West side of the peak offers some of the best powder riding in the resort. Steep, powder loaded faces provide the ultimate Niseko experience. Lower down the run has rollers and steep valley runouts, so this area is recommended only for advanced skiers and snowboarders. The run brings you out to the Annupuri ski area, so make sure you have an All-Mountain Pass!
With the steep pitches, frequently forming cornices as well as the exit being an avalanche run off area, extra caution is required when entering this area. For those unfamiliar with snow conditions and backcountry skiing, a guide is essential. Their knowledge of the terrain and snow pack will help them to decide the safest areas to ride and which lines to choose.
Runs are available off the back faces as well, but these do not lead back to resort areas and require additional backcountry equipment to hike out. Those who are not sure of the area should not enter these areas without experienced guides.
Fujiwara no Sawa (Gate 4)
Provides access to the Easterly faces, lower down from the peak Gate 3. Accessed from the top of the King #4 lift (Pizza Box chair!), the gate provides access to nice straight runs that lead back to the Hanazono #3 chair. This aspect regularly gets wind loaded with snow, so turns can be deep and all without the need to hike to the peak! A great option when wind at the top of the mountain is strong, or Gate 3 is closed.
Traversing further round to areas accessible from the peak is possible, but deep snow conditions can make this troublesome and for safety reasons it is better to drop sooner. Recommended for advanced riders only.
Hanazono Gates
It may look small on the map, but Hanazono Resort has tonnes to offer including terrain parks, family activities and last but not least, some of Niseko's best and most extensive off-piste terrain. Gates are marked by black diamonds on the Hanazono Resort trail map.
Hanazono (Gate 5)
Located directly below Gate 4 at the top of the Hanazono #3 chairlift, the valley immediately adjacent to the chairlift is accessible. Skiers and snowboarders can be tempted to traverse as far around as they can to secure fresh tracks, so be on your guard as these tracks can be hard to see and can easily throw an unaware rider.
Riding over the first crest into the next valley will take you down to the summer access cat-track, so those looking for easy access should stick to the first valley area. Caution is required at the bottom, as missing the exit is easy to do and you may end up stuck in a terrain trap. No real danger here, but the hike out can be exhausting!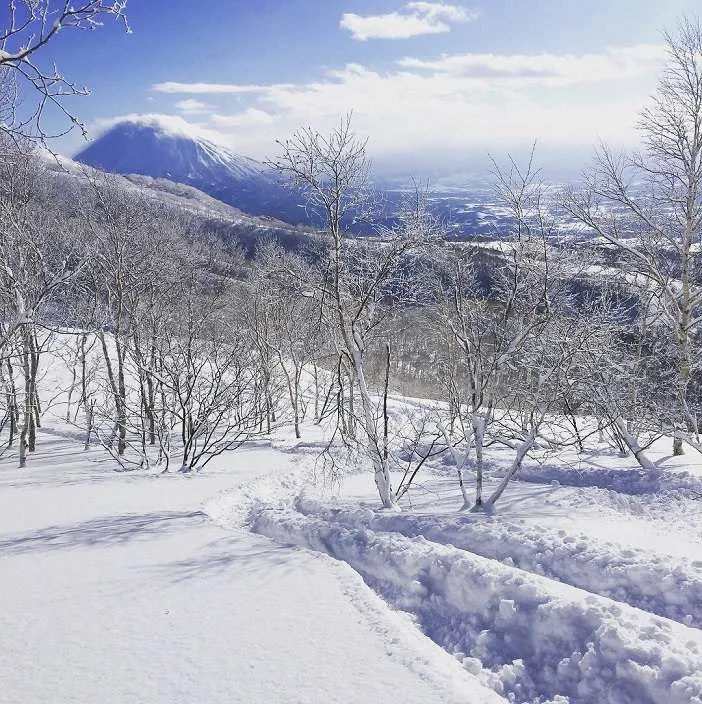 Waterfall (Gate 9)
The final, and often overlooked gate, is located between the Hanazono and Hirafu areas. Access can be gained by a short walk, exit left, from the Hanazono #2 chairlift. As the name alludes, there is a waterfall located at the bottom of the gully. Choose to drop in straight away for a short run with easy exit onto the Holiday ski run, or traverse further along the ridge for a longer run back to the Hanazono Area. Those dropping toward the Hirafu side should be wary of their exit and ensure they have enough speed to get across the valley floor and back up to the Holiday run. Similar to Gate 5 there is little danger on this side, but the walk out can be tiring!
Due to its location, this gate is probably one of the least ridden across the resort. As the majority of riders will take Hanazono #3 to get back across to Grand Hirafu, good lines can be found here throughout the day until closing. It certainly makes for good turns on your last run down.
What about 6 and 10?!
You have counted correctly; there are two gates missing. These gates are accessed from the Niseko Moiwa resort, outside of the Niseko United Area, so are not included here. Gate 6 does provide access to the Annupuri Resort (if you miss the turning back to Moiwa!), but unfortunately different lift passes are required. For those staying in the area, Niseko Moiwa is definitely worth a day trip, as the powder runs are great and there tends to be less crowds.
In Conclusion
While it can seem daunting at first, a professional Niseko ski guide can alleviate any concerns and take care of the finer details. This leaves you to enjoy the powder snow! Once familiar with the area, you will be able to venture off with your friends and explore. Gates 9, 5 and 7 remain the perfect opportunities for those less well-versed to sample what is on offer, while you work your way up to the steepest and deepest!
For those of our guests interested in venturing out into the backcountry and learning how to use the avalanche equipment, there are various operators offering Avalanche Safety Training (AST) courses in the Niseko area. This is a great way to step up your knowledge while also getting first hand experience in out of bounds areas. Black Diamond Tours and Rising Sun Guides are both highly experienced backcountry operators and come highly recommended from Japan Ski Experience staff.
Unfortunately international guests were unable to visit during the 2020-2021 and 2021-2022 as well. These two seasons though have proven that when it comes to consistent powder conditions, it's hard to beat Niseko! Optimism for a return to some form of normality over the 2022-23 ski season is high, so get in touch with Japan Ski Experience today to discuss booking a Niseko ski package. We have staff based in the Niseko area with a wealth of experience skiing in the resort and through the gates as well as in other Japan backcountry areas, so don't be shy to pick our brains!