THE NISEKO DISTILLERY
The distilling of spirits has long been an established tradition in Hokkaido. Brands such as Nikka Whiskey have been winning awards and gaining international recognition over the last 6 years for it's Yoichi brewed Whiskeys and Vodka. Enter a new contender a little closer to the snow: The Niseko Distillery, adding to the ever-growing list of Niseko attractions and Niseko non-ski activities. Doors opened last month to Niigata-based brewing company, Hakkaisan's newest venture. Established in 1922, Hakksaisan has become a master of sake brewing and in 2016 acquired a license to brew Whiskey. Their current range of products have proven to be widely popular and range from sake through to beer and shochu.
SO WHY HAVE THEY CHOSEN NISEKO FOR THEIR LATEST ADVENTURE?
One of the reasons Hakkaisan have been so successful is down to their recipes themselves. Their main brewery, situated at the base of Mt. Hakkaisan in Niigata, uses pure water directly from the surrounding area. This water, filtered through mountain rock and soil, produces a very unique taste and is used in all aspects of their production. Niseko has an abundance of equally pure water flowing down from Mt. Annupuri, perfect for the production of spirits. Twinned with the local area's high quality crops, the best ingredients for alcohol production are right on their doorstep.
Hakkaisan need not worry about footfall either. Before the coronavirus pandemic, the Niseko region attracted over 160,000 foreign visitors a year. Even with the lull created by Japan border restrictions, these numbers are forecast to increase further once the pandemic ends. Niseko's fantastic dining options are one of the reasons guests flock to the area and you can be sure they will be keen to try any new local products.
THE NISEKO DISTILLERY BUILDING
The Niseko Brewery itself is a stunning building, with the whole area consisting of the main brewery and shop, as well as separate storage building, making up around 877sqm of floor space. The grand wooden structure, with high ceilings and natural finish, was designed to blend seamlessly with the surrounding environment, a goal in which we can say they have been very successful! Top of the line brewing equipment has been provided by Forsyths Ltd of Scotland, supplier of famous breweries around the world, such as the Kavalan Distillery in Yilan, Taiwan.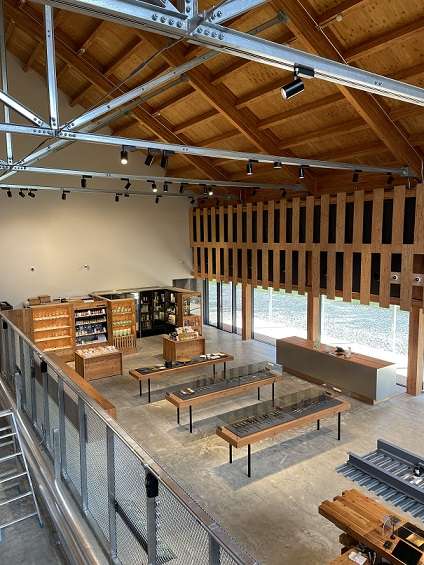 WHAT'S ON OFFER?
The distillery shop is already selling its first signature product: Ohoro Gin, the name originating from the Hokkaido native Ainu language, meaning "continuity". Containing botanicals such as Japanese willow and huckberry, this smooth gin is priced at just ¥3,800 (exc tax) for a 720ml bottle. The shop also stocks Hakkaisan's extensive range of sake, as well as specially selected goods from the local Niseko area. Whiskey distilling has also already commenced, but with a minimum of three years maturing required for Japanese brands, we will unfortunately not be able to taste the results until 2023 at the earliest. You can be sure that the Japanese Ski Experience Niseko team will be ready and waiting to taste as soon as possible!
HOW TO BOOK A TOUR
For those interested in visiting The Niseko Distillery, free tours are available throughout the year in both English and Japanese. Reservations are required and can be made via phone or through their website. Group numbers are also currently limited, but may increase as covid restrictions begin to ease. The tour lasts around 90 minutes and consists of introduction to the facilities and tasting time at the bar. Guests can also visit the shop separately from the tour, though time slot reservations are still currently required.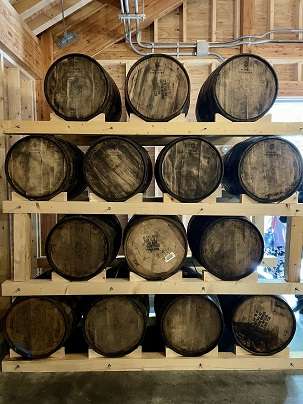 The list of attractions in the Niseko area grows ever larger and we cannot wait for the international community to return and enjoy these experiences first hand. Remember to keep an eye out for Niseko Distillery products next time you visit Niseko!