A highlight of any Hakuba ski holiday is undoubtedly enjoying the amazing and diverse food of Japan! From cheap eats to fine dining and everything in between, there are endless options to enjoy when eating out in Hakuba, many restaurants just a short stroll from the plethora of Hakuba accommodations on offer.
Here we uncover the most delicious Japanese cuisine you simply must try on your Hakuba ski holiday, for the ultimate Japanese experience. For an overview of all the best restaurants in Hakuba, check out our Hakuba restaurant guide.
SHINSHU SOBA
Buckwheat soba noodles are a traditional Japanese dish definitely not to be missed. Nagano prefecture is famous for soba, where the noodles are known as 'Shinshu soba'. Shinshu is the old word for Nagano and you might come across it frequently during your visit to Hakuba.
Served both hot and cold, soba noodles are about as traditional as you can get. It is acceptable to slurp noodles noisily. In fact, the more noise the better, as this typically shows your appreciation of the deliciousness of the noodles!
Chilled soba (known as Zaru Soba) is usually presented on a bamboo tray, often garnished with pieces of dried 'nori' seaweed, and served with 'soba tsuyu' dipping sauce. This style of soba is considered the best way to experience and enjoy the unique handmade texture of the noodles. Hot soba (known as Kake Soba) served as a noodle soup, is equally delicious and certainly very popular during the cold winter months. We highly recommend sampling both options, as they are quite different from each other! Our favourite? Ten Zaru Soba. Cold soba noodles, served with soft and flakey tempura – delicious!
Best places to eat Soba in Hakuba: Zen, Riki, Maeda, Futaba Soba, Nagomi-tei, Issei.
SUSHI
Let's be honest – you can't visit Japan and not sample some delicious fresh sushi. Though Nagano is a land-locked prefecture, Hakuba is ideally positioned at the northern end of the region, less than 1 hour from the port town of Itoigawa on the Japan Sea coast. Itoigawa is famous for its seafood and there's always a plentiful supply of fresh fish making its way to restaurants in Hakuba. This means you can easily enjoy fantastic seafood and sushi during your ski holiday. If you rent a car during your stay and are feeling adventurous, why not take a day trip to Itoigawa?
Best Sushi in Hakuba: Kikyo-ya, Camp Fire Sushi & Café Bar, Sushi West Mountain.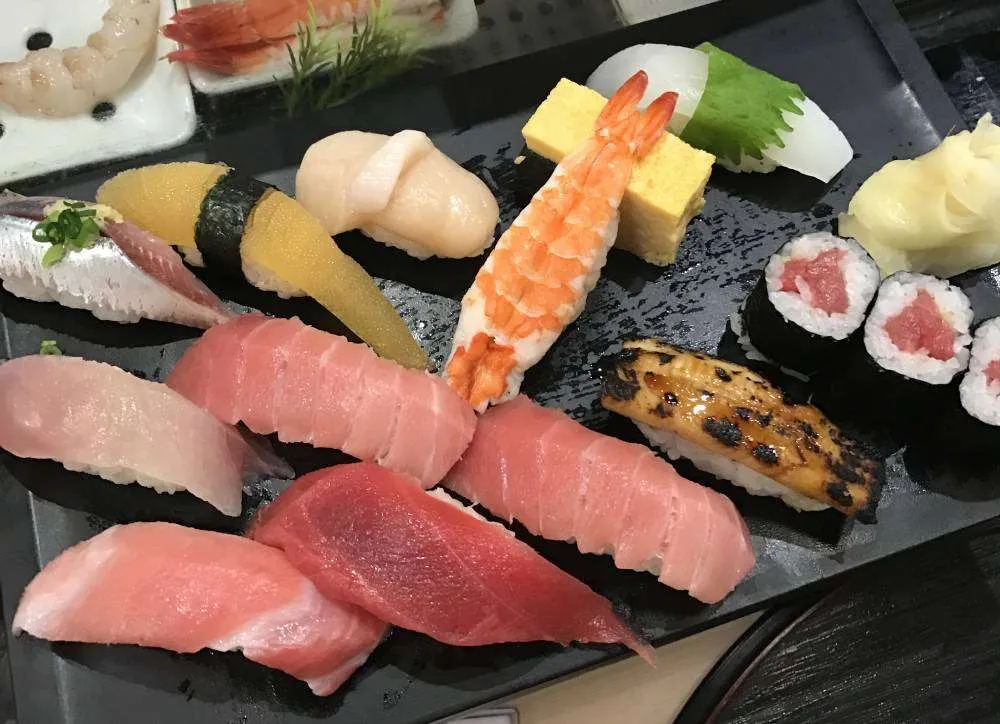 TEISHOKU
Teishoku style Japanese food is a set meal and great if you'd like to try a bit of everything, because it includes many dishes. This might sound fancy, however it's the exact opposite. It's home cooking style cuisine and very comforting after a day on the slopes.
These traditional meals usually include a main, soup, rice, salad and pickles. If you are looking for something healthy, convenient, family-friendly and budget-friendly, then Teishoku is it. A set meal will typically cost around 500 – 1000 Yen. Each option on the menu is usually named after the main dish. For example, Tonkatsu-teishoku (pork cutlet), Miso Saba-teishoku (grilled mackerel with miso flavor) or Chicken Katsu-teishoku (chicken cutlet) – pictured below.
Best places to eat a Teishoku style meal in Hakuba: Ooshimo, Emu, Chitose.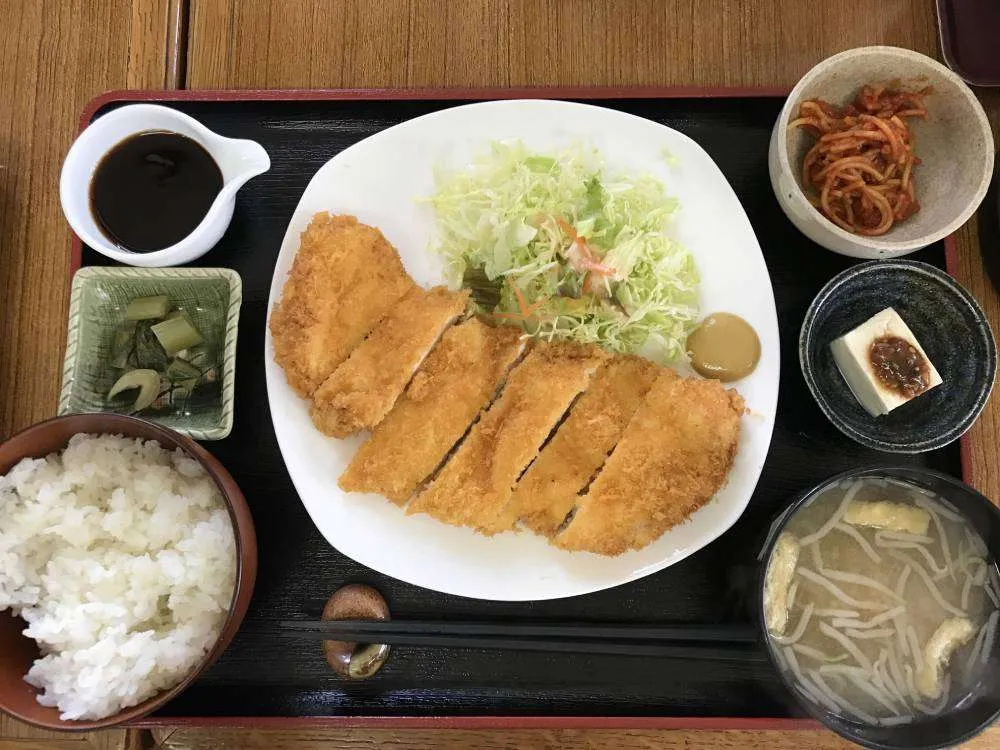 WAGYU
If you are looking to push the boat out on your Hakuba ski holiday, why not indulge in the famous and exquisite Japanese Wagyu beef. Wagyu farmers raise the cattle in such a way that produces distinct and beautifully marbled beef. It tastes sublime and is the ultimate luxury foodie experience for meat lovers. You can experience this delicacy at some of the best fine dining restaurants in Hakuba.
Best places to eat Wagyu beef in Hakuba: Mimi's at Phoenix Hotel, LUCE at Mountain Side, Nikumasa.
YAKITORI
Yakitori are charcoal grilled chicken skewers made from all different parts of the chicken. The meat is typically seasoned with tare sauce (sweet salty flavour) or salt. You can enjoy this Japanese classic at small restaurants specialising in Yakitori or at an Izakaya (Japanese bar serving food). Yakitori is typically inexpensive and best enjoyed with a cold beer! There are several Hakuba Izakaya's serving Yakitori.
Best Yakitori in Hakuba: Sumiya Jun (Yakitori restaurant), Hie (Izakaya), Sarugaku (Izakaya), Izakaya Kaz at Hakuba Mominoki Hotel.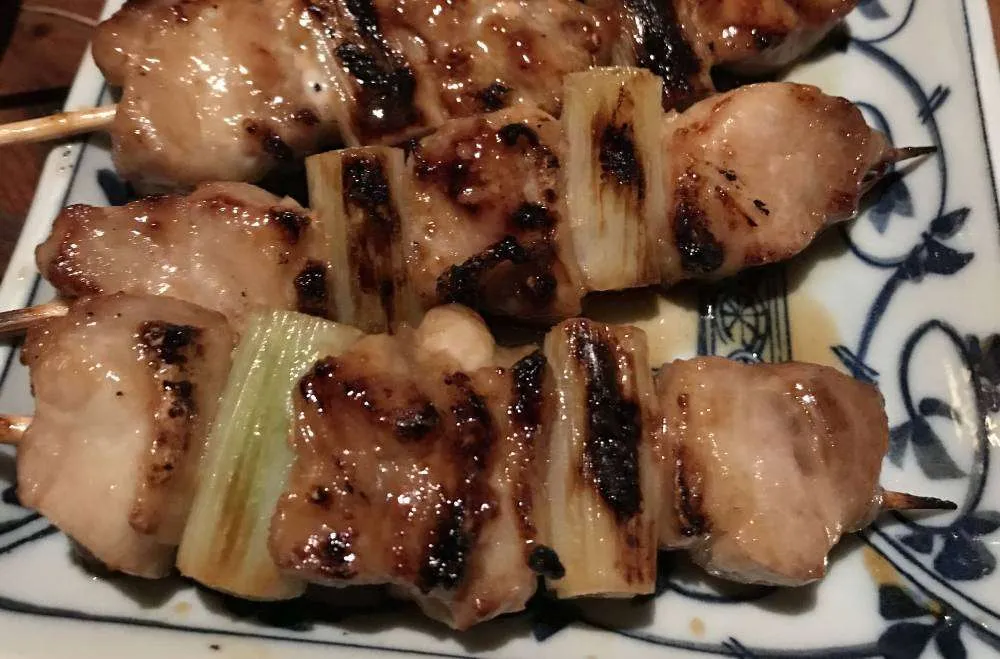 So what are you waiting for? Browse our extensive range of Hakuba accommodation and enquire about your Hakuba Valley ski holiday with Japan Ski Experience today. The ultimate Japan ski and foodie experience is waiting for you!
Are you looking for more ideas and wondering where to eat in Hakuba? For an overview of all the best restaurants in Hakuba, check out our Hakuba restaurant guide. Enjoying eating out in the Hakuba Valley and discovering all of the best Hakuba area restaurants will be effortless, with the help of our local knowledge!