With so many of us patiently (or not so patiently!) waiting for the Japan border to re-open so that we can get back to skiing deep powder and enjoying everything else that we love so much about Japan, the burning question persists: When will Japan open its border for tourists? Japan's tight travel restrictions persist and it's the million-dollar question. While we eagerly wait for updates from the Japanese government, you might also be wondering – how has Covid impacted the Hakuba Valley ski resorts? How will the resorts implement physical distancing? When and where will we have to wear a face mask? Will there be restrictions on ski lift passenger numbers? And when can we ski Hakuba again?
2020-21: A SEASON LIKE NO OTHER
There is no question that the 2020-21 winter season in the Hakuba Valley was certainly one like no other. Oddly quiet and sadly missing international visitors, snow still fell in abundance all winter long. For those lucky enough to be there, it was a unique opportunity to enjoy fresh Hakuba powder well into the afternoon and ride largely empty slopes. But how did the Hakuba Valley resorts react to Covid last season? What measures did they put in place to ensure those lucky enough to enjoy the snow, were safe? Here, we give you a run down of the impact of Covid on the Hakuba ski resorts. We all know the Covid situation is very fluid and things can change quickly, but hopefully this article will provide future visitors with an insight of what we might expect once Japan opens its border for tourism.

COVID SAFETY MEASURES IN THE HAKUBA VALLEY
WEAR YOUR (SKI) MASK
Last season facemasks were a must and there were signs all over the resorts encouraging skiers and snowboarders to adhere to the new rules of wearing face coverings. Resort guests had to cover their face at all times, both during skiing and riding the lifts. Wearing your neck warmer over your nose and mouth was sufficient though, so not too much of a burden in mid winter blizzard conditions!
HAKUBA GONDOLA PROTOCOLS
Ahh, the gondola. The cabin of dreams! Transporting you effortlessly to the top of the mountain, as you gaze out into the snowy abyss, sheltered from the storm. But don't forget to sanitise your hands before loading your skis and boarding! The Hakuba resort gondola stations were well supplied with hand sanitiser stations last season, as part of the plan to keep everyone safe. Tsugaike Kogen Mountain Resort even had a mysterious disinfectant mist tent, which you could walk through prior to boarding, adding a bit of excitement to the experience! Some of the resorts had temperature check points, though these were not mandatory. As you might expect, social distance markers were in place at the gondola stations too – though this was hard to enforce, since many skiers and snowboarders were too excited and eager for the next powder run! An all-important rule which was adhered to however, was no sharing the gondola with people outside of your group. Same for the Hakuba ski lifts – no (new) friends on a powder day, in these pandemic (powder) times.


NUMBERS IN RESORT
REDUCED CAPACITY
While many ski resorts around the world limited their visitor numbers last season, it seems the Hakuba ski resorts didn't need to. The lack of international guests in Hakuba meant the slopes were naturally quiet, especially on weekdays when the Japanese tend not to travel. In response to the lower visitor numbers, almost all of the Hakuba Valley ski resorts reduced their lift service during weekdays.
DOMESTIC JAPANESE GUESTS
Travel restrictions within Japan were a recommendation and not a legal requirement and last season the Hakuba resorts proved popular (on weekends at least) with Japanese guests. Public transport ran normally and wasn't adversely affected, but as you'd expect, common safety requirements were in place across Japan, including – mask wearing, social distancing and use of hand sanitiser in public spaces.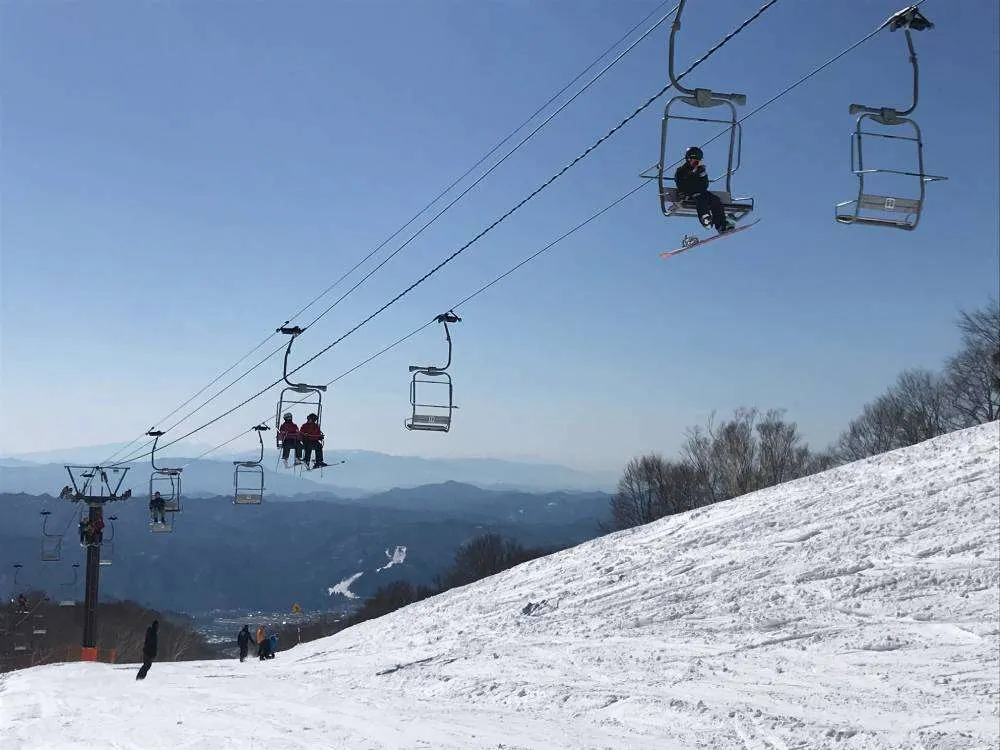 HAKUBA COVID CASES
There were a few ups and downs during the 2020-21 Hakuba winter season, but the ski resorts remained open for the duration of the winter. This was no mean feat compared to other ski resorts around the world where restrictions meant they were unable to operate at all last winter. February 2021 saw strong measures put in place locally due to an outbreak of Covid cases in Hakuba village, with a 2 week closure of restaurants and bars. Much like everywhere else, mask wearing, use of hand sanitiser and temperature checks have been common safety measures for Hakuba restaurants and bars. All in all though, the Hakuba resorts did well and are in a strong position having reliably stayed open until the end of the 2021 winter season.
LOOKING AHEAD TO THE 2021-22 SKI SEASON IN HAKUBA
Japan's Covid vaccine rollout got off to a worryingly slow start earlier this year, however the country has made great progress in catching up and boasts record levels of vaccine uptake amongst its population. "More than 90% of Japanese 65 and older have received both shots, while rates for people in their 20s and 30s are 69% and 72% respectively…" quotes the Japan Times. Next month Japan will begin their booster program, starting with health care workers and the older population, before extending this to everyone else. Japan is also planning to offer Covid vaccines to children aged 5 – 11 years in February.
In recent days, Japan Covid cases in Japan have been at their lowest levels in a year and a half. With these positive statistics, combined with the fact that the Japanese government has recently eased travel entry restrictions to Japan for business travellers and international students, we remain optimistic and hopeful that this positive trend will continue and we will see travel opening up in time for at least part of the upcoming 2021-22 winter season in Hakuba.
A WARM (AND SNOWY) WELCOME AWAITS AT HAKUBA VALLEY SKI RESORT
It goes without saying that the Hakuba Valley and all of the Hakuba accommodations, restaurants and other businesses cannot wait to welcome international visitors back! Can't quite wait for the announcement from the Japanese government we are all waiting for? Check out our incredible selection of Hakuba apartments, chalets and hotels now and get planning! Enquire with Japan Ski Experience today.