Discover Hakuba Onsen
If you are yet to experience Hakuba onsen, you have a treat in store. For the chance to combine the ultimate ski or snowboarding trip with some of the most incredible natural hot springs in the world, then look no further than Hakuba Valley. Nestled in a part of Nagano prefecture known for its rich, volcanically active land, the Hakuba area has dozens of natural indoor and outdoor onsens, which is a special delight, especially in winter after a day on the slopes. Being lucky enough to have tried them all, here are our top ten favourite Hakuba onsens (in no particular order):
Tenjin No Yu Onsen (Hakuba Highland Hotel)
Offering without a doubt, the most spectacular view from a Hakuba onsen, Tenjin no yu features both indoor and outdoor baths, plus a sauna. Located on the East side of the valley, this onsen is well worth the drive (or short taxi journey) on a bluebird day. The views of the Japanese Alps are quite simply breathtaking!
Set inside two traditional houses built around 120 and 160 years ago at Sierra Resort Hotel, and constructed with huge wooden beams, this onsen offers the ultimate relaxation experience in a traditional setting. One of the largest and most beautiful onsen in Hakuba, it is 100% Gensen-Kake-Nagashi, meaning 100% pure with no added tap water or additional heating. It is the perfect place to soak indoors or outdoors while watching snowflakes gently flutter down from the sky.
Happo Onsen Hakuba (Happo Village)
Conveniently located just opposite the Happo Bus Terminal, Happo Onsen is the perfect spot to rejuvenate aching and tired muscles after a big day on the slopes. This onsen offers indoor and outdoor baths, and lovely modern facilities. Easy walking distance from much of Happo Village and Wadano areas, and not to be missed!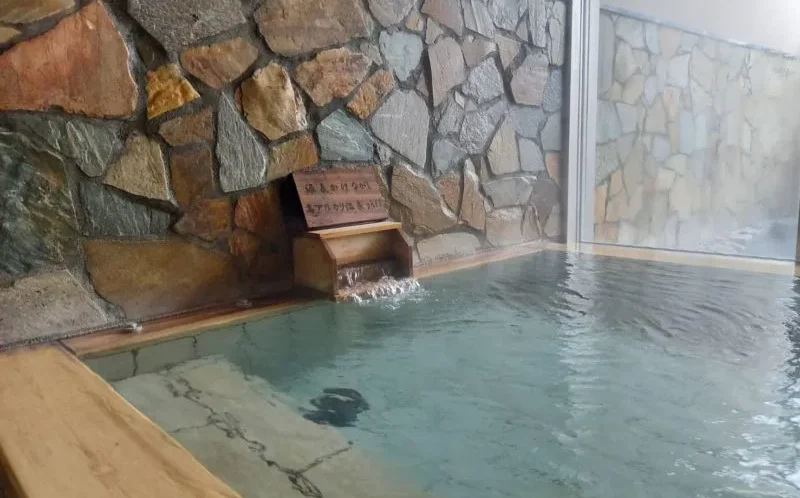 Shobei No Yu Onsen (Hakuba Mominoki Hotel)
A personal favourite of our Hakuba team, the Hakuba Mominoki Hotel's Shobei No Yu onsen is said to have the highest level of alkaline waters in Japan (PH11!). This Hakuba onsen features indoor and outdoor baths, plus a sauna which non-guests can pay to use. The outdoor rock baths were extended a few years back and provide a traditional and relaxing environment to enjoy a long soak. Why not enjoy a glass of wine in the Fireside Lounge afterwards, or attend one of Mominoki's popular jazz evening events!
Obinata No Yu Hakuba Onsen
Part of the Happo collection of Hakuba onsens, Obinata No Yu offers a more wild hot spring experience, with outdoor baths and rustic changing areas. Think beautiful mountain views and an open-air onsen carved into natural rock. Obinata no yu can usually be booked for private groups during the winter season, so ideal for mixed groups and families.
Hakuba Tokyu Hotel Onsen
Located in one of the more popular Hakuba accommodations, the Tokyu Hotel Hakuba onsen, which uses Happo onsen water, offers both indoor and outdoor baths to relax in after a big powder day. Why not combine with booking an aromatherapy massage treatment at the hotel's fantastic spa facility.
Mimizuku No Yu Hakuba Onsen
The purest and silkiest water in Hakuba, with stunning views to boot! Very popular with Hakuba locals, this is one of our long-standing favourites in the valley. The indoor bath offers an extra hot experience, while the outdoor rockpool bath offers soothing waters we could happily relax in all day. Equally wonderful on a snowy or sunny day, with spectacular views to Happo One ski resort. Many Hakuba locals tout the Mimizuku as being the best onsen in Japan.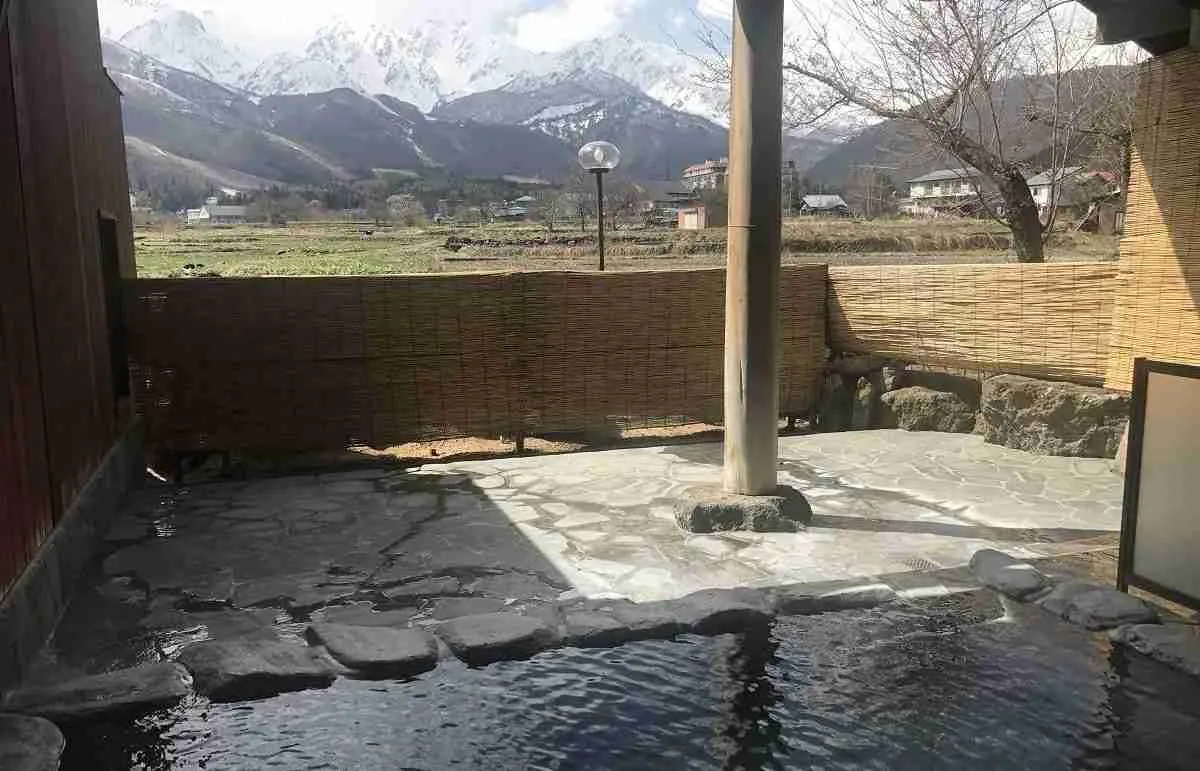 Hotel Green Plaza Onsen (Cortina Resort)
For the ultimate day of off-piste and powder fun, head to Hakuba's famed Cortina ski resort at the north end of the valley – but don't miss enjoying its fantastic onsen at the end of the day – it's all part of this memorable experience. From a Hakuba onsen bath overlooking the slopes, a jacuzzi area, steam and sauna rooms, to thundering waterfalls, a traditional hinoki wood bath and a healing medicinal bath, you might need to set aside plenty of time to enjoy Hotel Green Plaza's seemingly endless bathing options!
Ryujin Hakuba Onsen (Goryu Resort)
If you are staying in or visiting the Goryu ski area of Hakuba, Ryujin onsen is not to be missed. Enjoy a relaxing soak in one of the biggest outdoor onsens in the Hakuba area which features a large outdoor bath, a mist sauna hut, pot baths (tsuboyu), kettle baths (kamayu) and shallow lie down baths (neyu) in a beautiful garden-like setting. It's simply magical when covered in snow! Inside you'll find a spacious indoor bath, sauna facilities and a cold pool. There's a Japanese restaurant on-site too, so why not combine this experience with a traditional evening meal.
Sato No Yu (Happo Village)
Another of the fantastic Happo hot springs, Sato no yu is located in the heart of the Happo village area. This is an indoor bath, with excellent water quality. Its unique hexagonal shaped bath adds to the traditional aesthetic of this small but wonderful Hakuba onsen.

Planning to hop in? Be sure to check out our Japan Onsen Rules before you visit any of the Hakuba area onsens to brush up on your onsen etiquette! You can also find our list of best Niseko onsens here.