BEST DAY TRIPS FROM HAKUBA
The Hakuba Valley is a famous international ski resort destination. Boasting 10 ski areas, Hakuba offers a wealth of experiences within the vast valley itself. However, there's so much to explore just outside Hakuba in the Nagano region and beyond, making Hakuba the ideal base from which to explore and enjoy a rich cultural experience. Here we give you a run down of the best day trips from Hakuba.
MATSUMOTO CASTLE
Matsumoto City is situated just 1.5 hours south of Hakuba, perfectly located for a day trip, and can easily be reached by car or on public transport. Matsumoto Castle is the city's most famous landmark and rightly so. This majestic black and white structure dates back to 1592 and is one of only five castles designated as 'National Treasures of Japan'. One of the best preserved and oldest castles in Japan, it is well worth a visit. The surrounding park provides excellent views of the castle and is especially magical during the cherry blossom season in spring, when hundreds of cherry trees are in bloom. With numerous special events taking place throughout the year, you might be lucky enough to witness the spectacular Ice Carving Festival in winter.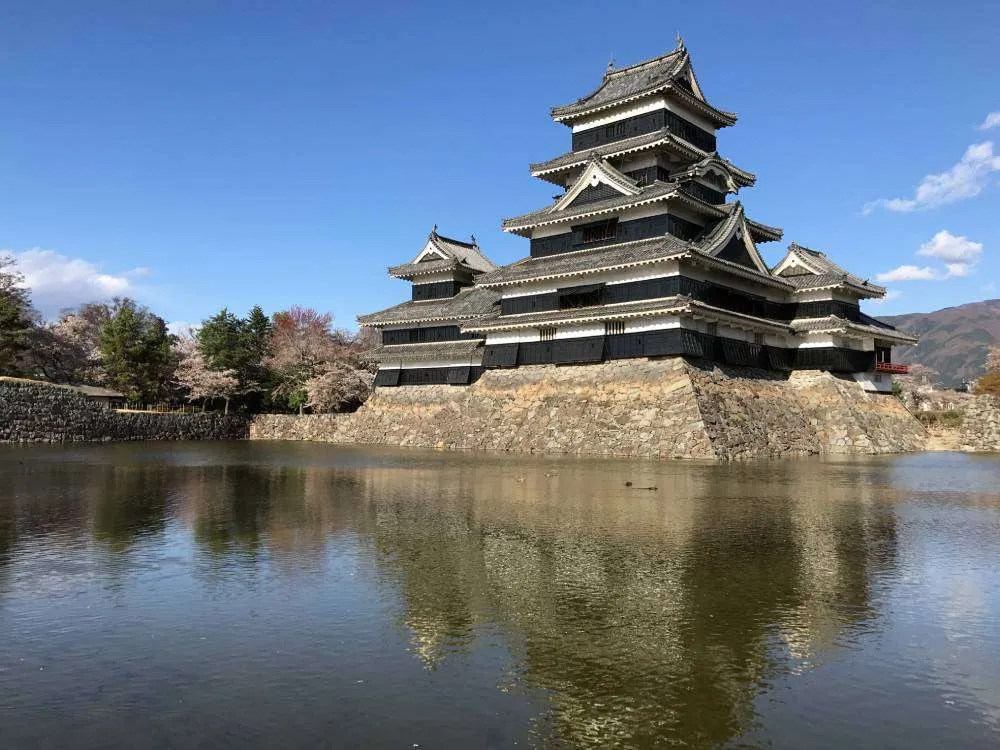 Top highlights in Matsumoto
Take a stroll down the river and browse the traditional street food stalls and shops of Nawate Street or 'Frog Street' as it is affectionately known.
Pop into the centrally located and modern AEON Mall. Newly opened in 2017, the complex features every kind of shop you could imagine, a grocery store, a cinema, a section with locally produced foods and a large food court.
Visit the Matsumoto City Museum of Art where amongst other exhibitions, you can check out the permanent display of world renowned Japanese artist Yayoi Kusama, who is from Matsumoto.
Explore the traditional Nakamachi Street where you will find lots of local shops selling craft items such as pottery and lacquerware. There is also a nice selection of cafes, restaurants and soba noodle shops.
HOW TO GET TO MATSUMOTO FROM HAKUBA
There are lots of options for travelling from Hakuba to Matsumoto. We recommend the local train as being the cheapest and most relaxing way to get to Matsumoto.
Train: There's a frequent local train service between Hakuba and Matsumoto, which costs only ¥1,170 one way. Check train times here. Time: approx. 1hr 30mins.
Rental Car: If you have a rental car, it's a straightforward drive south. Head out of Hakuba on the Route 148 and follow your sat nav, or failing that you'll find that the route is well sign posted in English. It's a beautiful scenic drive down the edge of the Northern Japan Alps mountain range. Time: approx. 1hr 30mins.
Bus: Alpico operate a bus service, but the train is cheaper and far more frequent. Time: approx. 2hrs.
KANAZAWA
Often referred to as "Little Kyoto", Kanazawa is now an easy trip from Hakuba, thanks to the Hokuriku shinkansen extension from Nagano to Kanazawa, which opened in 2015. This is a top destination to enjoy Japan's rich history and culture, without the crowds. The capital city of Ishikawa prefecture is most famous for the beautiful Kenrokuen Garden, a spectacular example of a Japanese garden. Dating back to 1875, it is considered one of the 'three great gardens of Japan'. Immerse yourself in 25 acres of trees, streams, ponds, waterfalls, stone lanterns and historical tea houses. Stunning in all seasons, Kenrokuen is Kanazawa's must-visit site.
Top highlights in Kanazawa
Take a stroll through the Kanazawa Castle Park on your way to Kenrokuen garden. The original castle was mostly destroyed by a fire in the late 19th century, but has been restored and is still impressive.
Visit the Higashi Chaya district (meaning Eastern Teahouse district), which features lots of traditional wooden buildings. This beautifully preserved historic area of the city was established in 1820 as an entertainment district of rich merchants and nobility, where geisha would entertain with traditional music and dancing. Except from Kyoto, this is the only place in Japan where traditional training of geishas still takes place. Enjoy the quaint streets, visit a geisha teahouse and explore the historic area's restaurants and craft shops.
Explore the Nagamachi Samurai district, the area where samurai traditionally lived with their families. Wander the winding cobble streets and canals to find the Nomura Samurai House & Garden, which offers a unique insight into samurai home life. Well worth a visit.
Experience the city's lively Omicho Market. There are almost 200 stores and stalls in this covered food market, most famous for it's seafood. This is a great place to sample some fresh sushi, washed down with local sake.
HOW TO GET TO KANAZAWA FROM HAKUBA
Bus & Train: The easiest and fastest way to get from Hakuba to Kanazawa is a combination of bus and shinkansen (bullet train). Alpico run a very frequent service between Hakuba and Nagano Station (Approx 1 hour, 2200 Yen one way), from where you can catch the Hokuriku shinkansen to Kanazawa (Approx 65 mins, 8920 Yen one way). You can check train times and ticket prices here.
SNOW MONKEY ONSEN
No Hakuba ski holiday would be complete without a visit to the world famous Snow Monkey Onsen. Jigokudani Yaen Koen (meaning hell's valley monkey park) is located 2 hours drive from Hakuba village and is home to a very unique troop of wild Japanese macaques, more commonly referred to as snow monkeys. From the entrance, it's a 30 minute walk along a snowy forest trail to reach the snow monkey park, where your effort is rewarded with the sight of wild monkeys bathing in a natural onsen hot spring. In the daytime in the winter season, the monkeys come down from the steep cliffs and bathe in the warm waters of the onsen, and then return to the forests in the evenings. Subject of many a documentary, their behaviour and troop hierarchy is fascinating to observe, not least the baby monkeys who play in the snow and jump in the water, like excited little children. Warning! You'll likely max out your photo storage capacity, snapping endless images of these extremely photogenic creatures.
We highly recommend joining a full day tour from Hakuba, which we can offer to book as part of your Hakuba ski holiday. The day tour features: Transport, English speaking guide, entry to the snow monkey onsen park, a traditional Japanese lunch at a sake brewery in the historic town of Obuse and a visit to Zenkoji Temple in Nagano city.
HOW TO GET TO THE SNOW MONKEY ONSEN FROM HAKUBA
There are a few options for getting from Hakuba to the Snow Monkey Onsen, however we highly recommend booking a full day tour, so you can sit back, relax and enjoy having everything taken care of.
Day Tour: All transport (with English speaking guides) is included, usually departing Hakuba around 8:30am and returning around 5:30pm.
Rental Car: It takes approximately 1 hour to drive from Hakuba to Nagano City and from there, another 1 hour to the Snow Monkey Onsen. Make sure you have good sat nav to avoid getting lost!
Bus: Two buses are required to travel from Hakuba to the Snow Monkey Onsen on public transport. First, take the Alpico bus from Hakuba to Nagano Station (approx. 1hr). From Nagano Station go out of the East exit and take the Nagano Dentetsu bus from bus stop no. 23. This bus will take you directly to the bus stop near the Monkey park trail entrance (approx. 45 mins).
ZENKOJI TEMPLE, NAGANO CITY
For a rich cultural experience right on the doorstep, look no further than Zenkoji Temple, located in Nagano city less than 1 hour from Hakuba. Built in the 7th century, the modern city of Nagano was formed around this amazing landmark. The main Buddhist image of the temple is a hibutsu (secret Buddha) and is rumoured to be the first Buddha statue ever to be brought to Japan. Sadly though, the statue is not shown in public as it's prohibited for anyone (even the temple priest!) to see it. Interestingly though, the temple contains a statue of Binzuru, a disciple of Buddha. Don't be alarmed when you see lots of people rubbing different parts of this statue – it is believed in Japan that when you rub a certain area of the image of Binzuru, and then rub the corresponding part of your own body, the ailment you are suffering will be cured!
Top highlights in Nagano City
Enjoy a slow stroll from downtown Nagano up Zenkoji Nakamise Street to the temple. This extremely photogenic street is filled with wonderful craft shops, cafes and food stalls. You'll pass through the temple gates too, which are impressive and give a taste of what is to come!
Take your time to wander around the beautiful Zenkoji temple grounds and immerse yourself in the peaceful zen atmosphere.
Book a table at the Fujiya Gohonjin, a restaurant set in a colonial style building close to Zenkoji temple. This landmark hotel restaurant serves a sophisticated Italian Japanese fusion course menu. A refined dining experience not to be missed!
HOW TO GET TO NAGANO CITY FROM HAKUBA
Rental Car: Getting to Nagano by car is an easy option. It's a straightforward and scenic 1 hour drive from Hakuba on the 'Olympic' toll road into downtown Nagano. There are lots of 'pay by the hour' parking options dotted all over the central city area.
Bus: To travel from Hakuba to Nagano by bus is very convenient. Alpico run a very regular service between Hakuba and Nagano station. You can check the timetable here and check out the JSE guide to travel between Nagano and Hakuba. Tickets cost 2200 Yen one way. Time: approx. 1hr.