Boasting 10 ski resorts, the famous Hakuba Valley ski destination in Japan offers endless terrain to explore. You'll find everything from Japan's largest beginner slopes area at Tsugaike Mountain resort and some of the steepest and deepest tree skiing at Cortina ski resort, to Olympic downhill runs at Happo-One ski resort and spectacular 360 degree alpine views of the Japanese Alps at Iwatake Mountain resort. It's safe to say that you'll certainly be kept busy during a week long, or even two week ski holiday in Hakuba.
THE HEART OF THE JAPANESE ALPS
For advanced skiers and snowboarders however, the Hakuba Valley offers something truly special – literally endless backcountry and sidecountry terrain. Think big lines and steep terrain. Since 2017, the Freeride World Tour has featured Hakuba as one of its competition stops (a first ever for Asia), highlighting and showcasing the true impressiveness of the Hakuba backcountry terrain. Click here to check out all the action highlights from past events. Set in the heart of the Japanese Alps, on a clear day, you can't help but gaze in awe at the incredible high alpine peaks above the ski resorts. So, how do you access this? Read on, as we explain everything you need to know about exploring the Hakuba Valley's vast backcountry.
Photo by Sarah Mulholland
SAFETY FIRST
The most important consideration when planning to ski and snowboard in Hakuba's backcountry terrain is safety. Once you venture beyond the resort boundaries into the high alpine backcountry and sidecountry terrain, it is important to understand that these are dangerous places, not controlled by the ski resorts and there are risks involved. There is a lot to consider: avalanche conditions, weather forecasts, appropriate ski, snowboard and safety gear, backcountry partners, skill level, training, experience… the list goes on.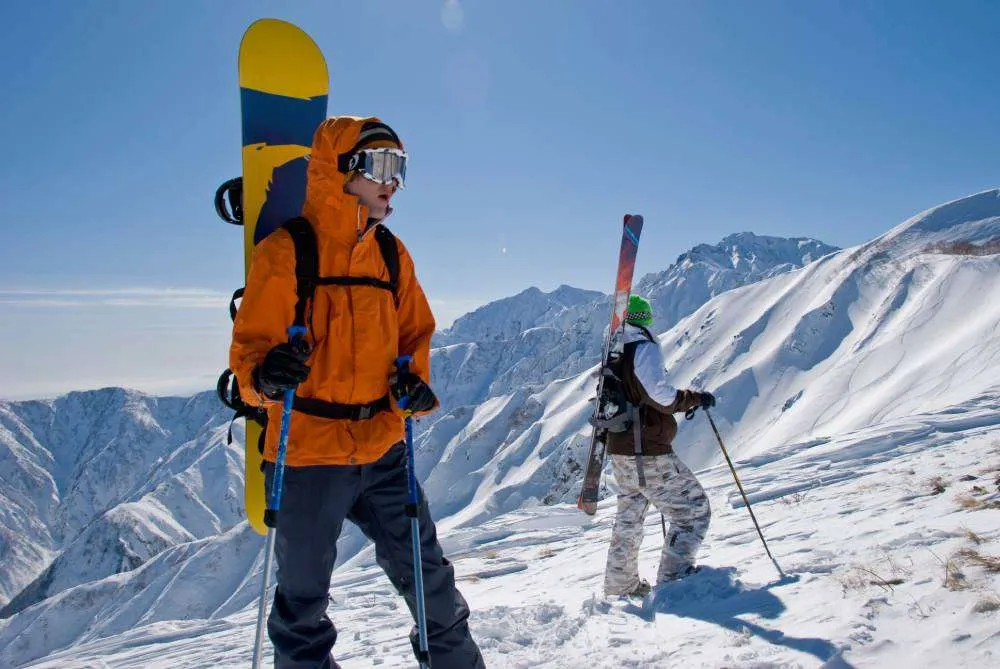 Photo by Sarah Mulholland
BOOK A GUIDE
Whether you are a first time backcountry skier or a seasoned powder hound, the best advice we can offer is to book yourself a qualified backcountry guide. Not only will they keep you safe, they'll take you to the best terrain for the day's snow conditions. But where do you start with choosing a guide? Well, we can certainly recommend some fantastic qualified local Hakuba backcountry guides for you.

Photo by Sarah Mulholland
Photo by Sarah Mulholland
NORTHERN HEIGHTS GUIDING
Headed up by long time Hakuba resident Canadian James Robb, Northern Heights Guiding offers everything from on-resort and off-piste guiding to backcountry guiding and even backcountry basics courses. James is a fully certified guide with over 20 years of experience guiding in Hakuba and Canada. Full day private tours can be booked for up to 5 guests, which includes collection and drop off at your accommodation.
EVERGREEN BACKCOUNTRY GUIDES
With decades of experience and a long list of qualifications, Evergreen owner and director Dave Enright is a stalwart of backcountry education and tours in the Hakuba Valley. Hailing originally from Canada, he has been running year round tours, guiding and instruction in Hakuba since 2000. Evergreen Backcountry Guides offer single and multi-day private backcountry tours, group backcountry tours and off-piste tours. Their professional and certified guides will ensure maximum safety and fun levels, as you explore Hakuba's expansive backcountry terrain.
GEAR
Backcountry skiing and snowboarding involves a fair bit of gear, from splitboards, touring skis and skins, to avalanche beacons and backpacks. If you don't have all of these, don't worry! You can rent backcountry equipment from our partner Central Snowsports, who have 3 stores located in Hakuba – in Wadano, Happo village and Echoland.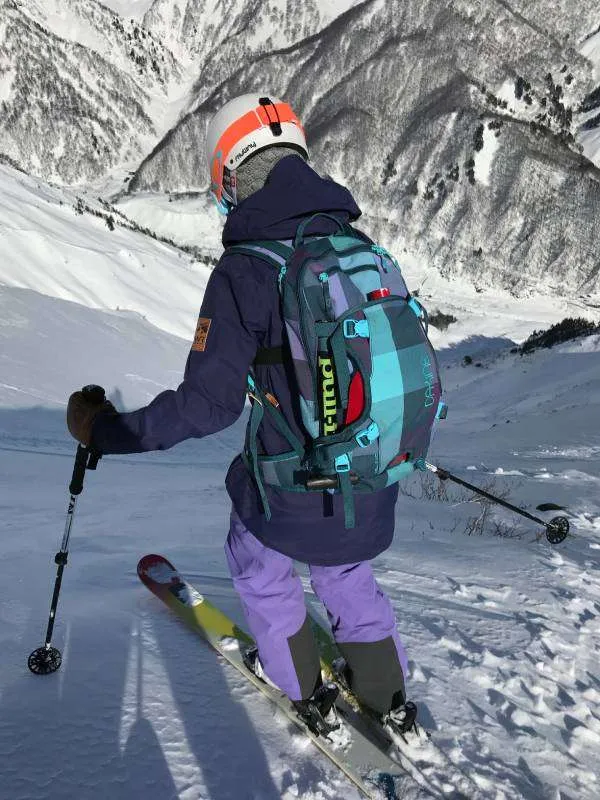 Photo by Ai Tomizawa
WHERE TO FIND THE BEST BACKCOUNTRY TERRAIN
So, where is the best backcountry terrain in the Hakuba Valley? Well, the options to explore are literally endless, from big steep lines in the high alpine to off the beaten track adventures deep in Otari, just north of Hakuba. However, the most popular backcountry terrain areas are above Goryu, Happo-One and Tsugaike ski resorts.
GORYU BACKCOUNTRY
From the top of Goryu ski resort, you can access expansive backcountry terrain options, with everything from steep spines (that's right, you don't need to go all the way to Alaska for these) to gladed treeline backcountry skiing, with fun gullies and natural half pipes filled with powder. Your guide will ensure your safety and that you are skiing in terrain suited to your level of experience.
HAPPO-ONE BACKCOUNTRY
Happo is famous for it's steep north faces, with blower powder, big lines and challenging steep terrain. Skiing in the backcountry above Happo-One ski resort offers huge rewards for minimal effort, with relatively short hikes leading to 1000m+ vertical descents. Hike even higher to Mume-zawa or beyond and the terrain certainly becomes more interesting and complex to navigate. We've met visiting North American pro-skiers in Hakuba who have likened this terrain to "Heli skiing for free", not least due to the fact that it's relatively easy to lap back around to the resort. Both the north facing and south facing slopes of Happo's backountry have featured as competition venues in the Freeride World Tour. This is serious high consequence avalanche terrain, which funnels into the riverbed valley below, so do go with a qualified guide. From the top of Happo-One resort, the hiking is all on top of a long ridge where there's usually a well trodden skin track and boot back, thanks to its popularity with backcountry skiers and snowboarders. Expect breathtaking and spectacular alpine views of Japan's North Alps mountain range, and don't forget your camera!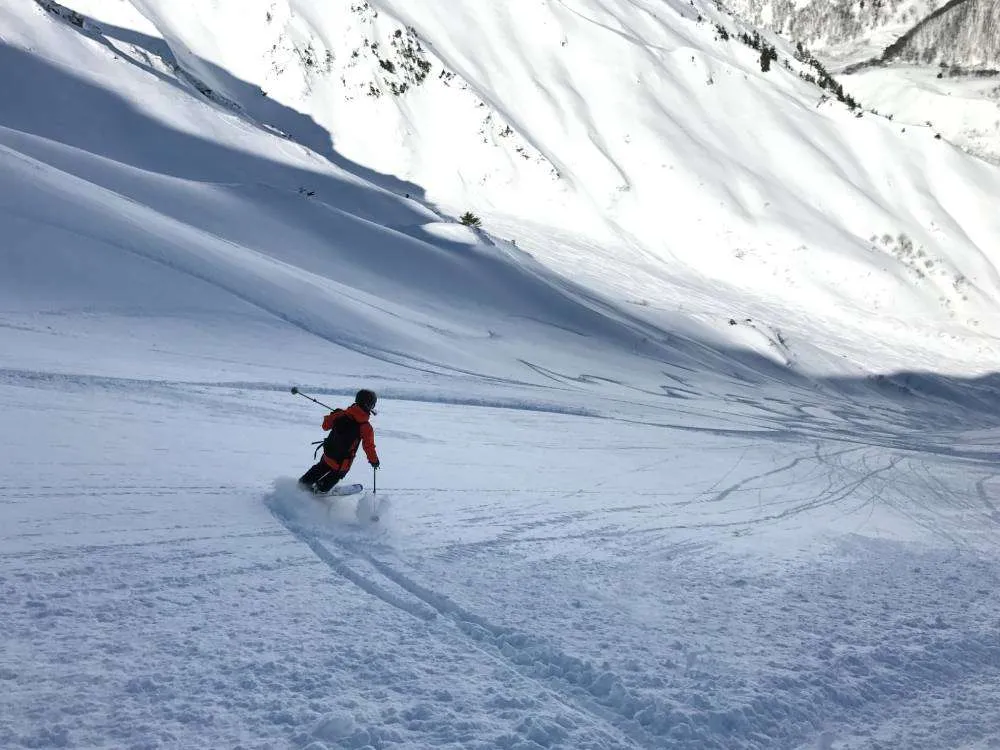 Photo by Sarah Mulholland
TSUGAIKE BACKCOUNTRY
Expansive and endless characterises the backcountry terrain found in the high alpine above Tsugaike Mountain resort. With lots of route and terrain options, from big open powder bowls to tree lined descents, Tsugaike offers fantastic backcountry options for all conditions. When the avalanche risk is high, your guide may take you on a more conservative tour staying below the treeline. On days with a more stable snowpack, it might be possible to venture higher into the numerous open faces and powder bowls. Longer complicated or even overnight routes are possible in this area too. At top the top of Tsugaike resort there's a beacon check point, and from here you'll ascend up the summer roads and through the trees towards a plateau known as Tengu-para. Above this is a peak called Norikura, which has huge enticing open faces. Again, this is serious avalanche terrain, so do go with a guide! Each season in early March the Tsugaike Ropeway cable car opens, giving faster and easier access to the backcountry terrain, heralding the start of the long spring backcountry season with lift access available right through into early May.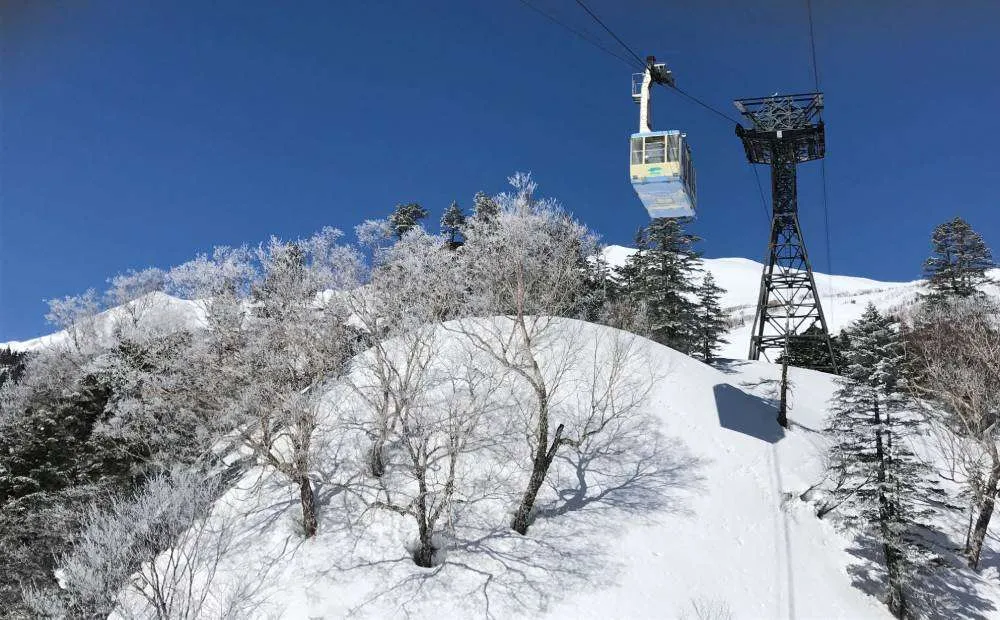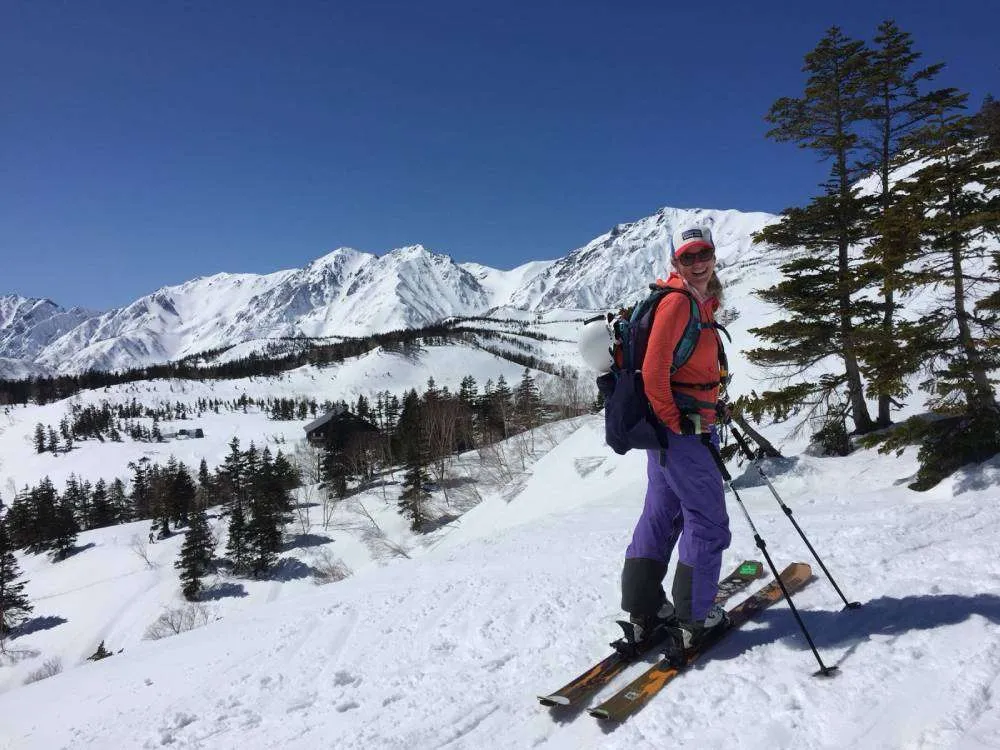 Photos by Sarah Mulholland & Ai Tomizawa
If you have any questions or are feeling inspired to enquire about your next Hakuba ski holiday, contact our team today. You can browse our wide selection of Hakuba accommodation options here.