JAPAN SKI EXPERIENCE ARE FINALISTS AT THE WORLD SKI AWARDS 2023
Japan Ski Experience is excited to have been selected as finalists for the prestigious title of 'World's Best Ski Travel Agent' at the World Ski Awards 2023.
Established in 2013, the World Ski Awards was introduced with the aim of elevating standards within the ski industry by recognizing leading organizations in the field. As sister to the World Travel Awards, the creation of the World Ski Awards was driven by the demand from the ski industry for a fair and transparent program. Its mission was to serve as the definitive measure of excellence and contribute to the growth of ski tourism. Hundreds of thousands of travel professionals and skiing enthusiasts from around the world cast their votes for their preferred ski tourism products and brands.
Global level categories include World's Best Ski Tour Operator, World's Best Ski Travel Agent, World's Best Ski Transfer Operator, World's Best Ski Resort Company, World's Best Freestyle Resort, World's Best Indoor Ski Resort, World's Best Heli-Ski Operator, World's Best New Ski Hotel, World's Best New Ski Chalet, World's Best Green Ski Hotel, and the special World Ski Awards Academy Award for Outstanding Contribution to Ski Tourism. Professionals working in the ski industry, as well as ski tourism consumers, have the opportunity to cast their votes online on the official World Ski Awards website. The voting system operates on a first-past-the-post basis to ensure impartiality.
If you would like to vote for Japan Ski Experience, you can do so here.
"We aim to go above and beyond at every step of your booking, from the first enquiry until your return home. Offering the best customer service including hand picked accommodation recommendations, expert local advice, a one stop shop for ski services, personal support and a tailor made itinerary. All of this is provided free of charge, as bookings services with Japan Ski Experience will never cost more than booking direct."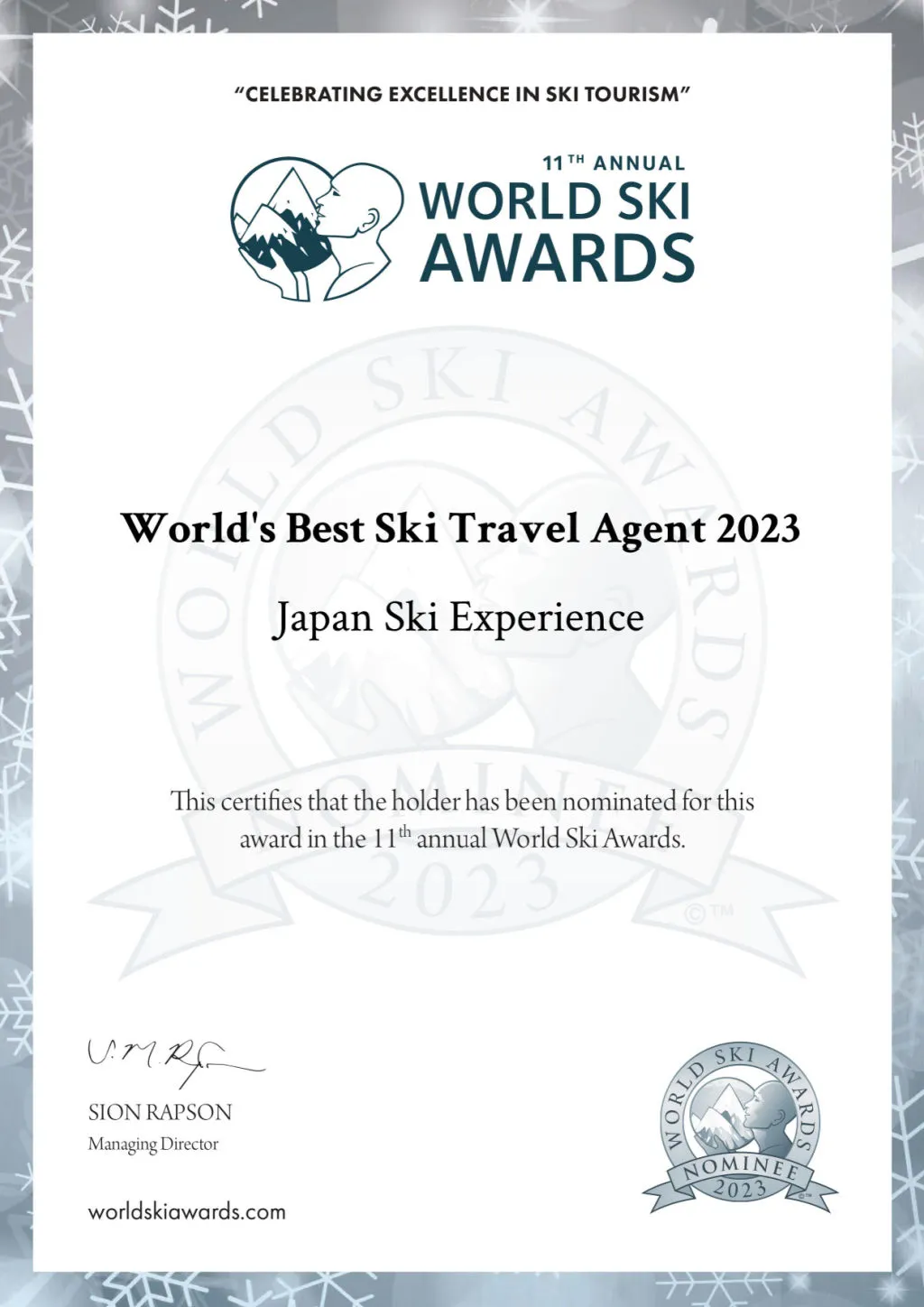 DONE
DEALS STILL AVAILABLE
It's not too late to book for winter 2023-24, with discounts of up to 40% on accommodation in Niseko, Hakuba, Rusutsu and Furano!