Hakuba Valley Map
Hakuba Valley is nestled under the dramatic peaks of the Japan Alps, with 10 individual ski resorts spread across 40km+ and spanning three distinct town and village areas.  Starting from the most southern part of Hakuba Valley and working your way up you'll find the mountain town of Omachi, home to the lesser known Jiigatake resort and the lakeside ski resort of Kashimayari. Next is the main Hakuba Village area lined with a number of popular resorts including Sanosaka, Goryu, Hakuba 47, Happo-One and Iwatake. Towards the Japan Sea at the north end of Hakuba Valley is Otari Village, famous for deep powder snow and home to Tsugaike, Norikura and Cortina resorts. A shuttle bus system links Hakuba Base Camp in Echoland, Hakuba Happo Bus Terminal and the popular Hakuba accommodation areas with all 10 resorts on the Hakuba ski map.
HAKUBA GORYU & Hakuba 47 trail map
Hakuba Goryu features 1 gondola, 11 chair lifts, 17 runs and a vertical drop of 926m. You'll see it on the Hakuba map right next to Hakuba 47 resort, as the two are inter-linked by their top lifts. At the base of the resort lies the Goryu village area of Hakuba which offers a nice selection of accommodation and restaurants.
One of the closest resorts to Echoland Hakuba, 47 offers varied terrain serviced by 1 gondola and 5 lifts, as well as Hakuba's best snow park. Connected to Goryu resort, these two resorts offer a combined area of 52 hectares and 26km of courses.
Hakuba Happo One Trail Map
Flanked by popular accommodation areas Happo village and Wadano forest, Happo One ski resort is centrally located on the Hakuba ski map. Hakuba Valley's largest resort has a top elevation of 1831m and an impressive 1071m vertical drop. Happo One will keep you busy with 13 courses, 21 chair lifts, 1 gondola and a longest run of 8km. Just looking at the Happo One map, you can see why this Olympic-famous resort is the jewel of the Hakuba Village crown. Don't miss the opportunity to check out the Winter Olympic Ski Jumping stadium located at the base of Happo One ski resort – you can take the chairlift to the top and imagine yourself as a ski jumper!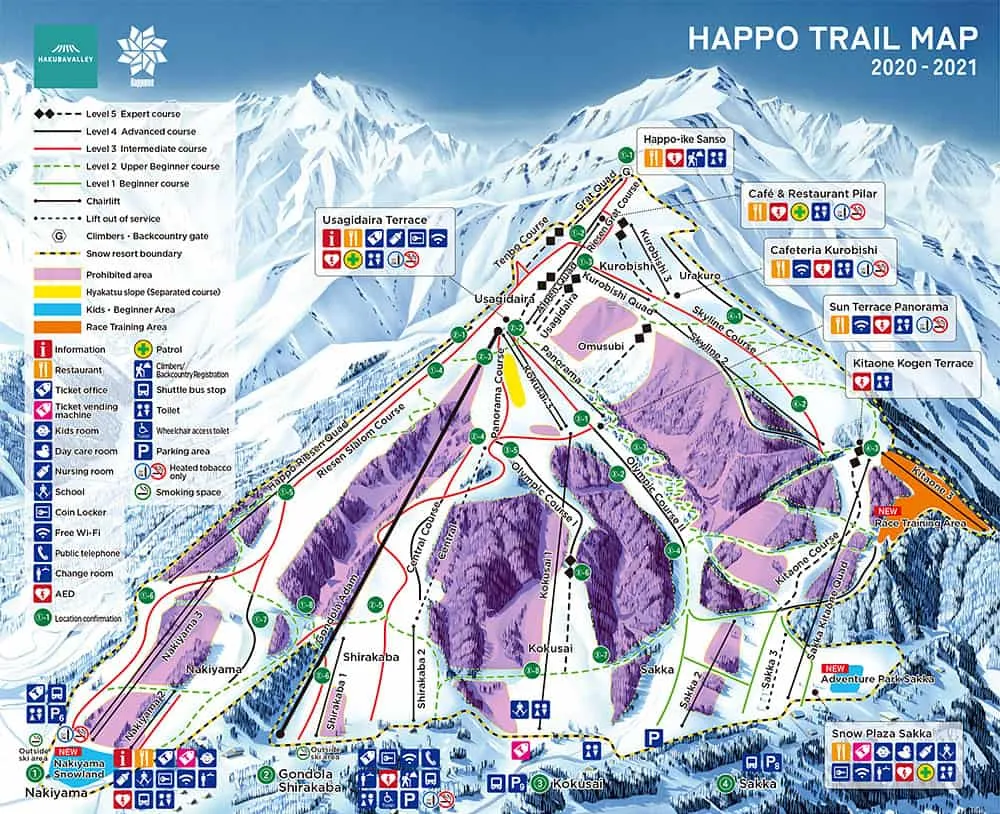 TSUGAIKE Kogen Trail Map
Tsugaike has Hakuba Valley's longest gondola travelling 4km in total from base to summit. The 20 minute ride is well worth the views and terrain accessible from the top of the mountain. Tsugaike comes in a close second for size, just behind Happo One. Tsugaike Mountain Resort is home to Japan's widest beginner slope which spans a huge 1.2km across, in addition to its 904m vertical drop, 14 runs, 17 chair lifts and 1 gondola.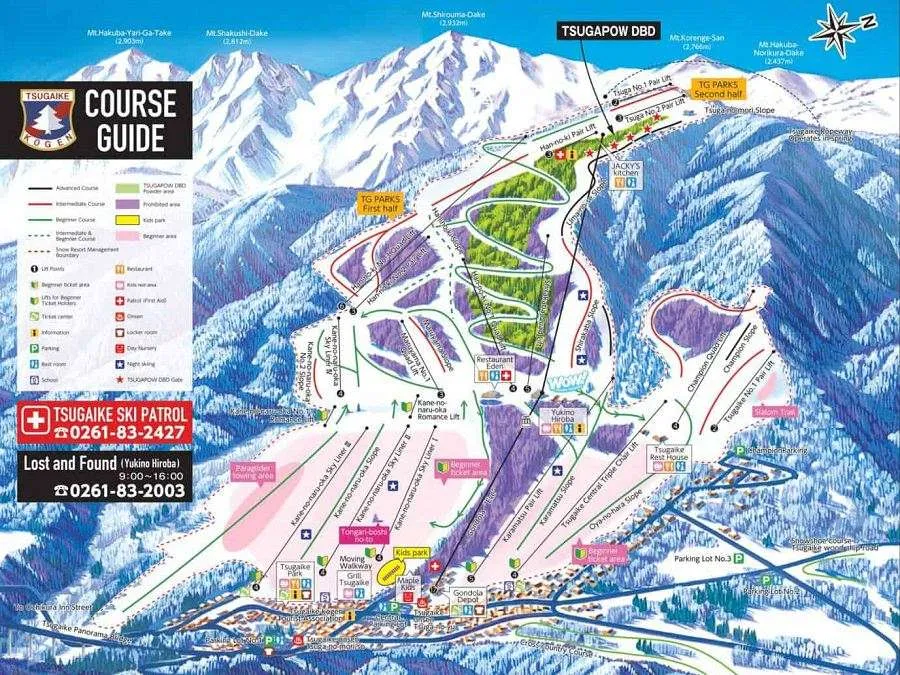 HAKUBA CORTINA trail map
6 lifts, 16 runs, 530m of vertical drop and Japan's best steep and deep tree skiing. Cortina Hakuba is the stuff of dreams. Even for those who aren't off-piste experts, there's plenty of fun to be had and seeing the incredible Hakuba Hotel Green Plaza alone should be on your to-do list! Circle this one on your Hakuba ski map, it is truly unmissable.