Snow Peak Land Station Hakuba
Hakuba Ski Resort has had some spectacular attractions open up in the past few years, most notably Hakuba Mountain Harbor (2018) with its stunning, expansive panoramic views of the northern alps, gorgeous open grounds, and mouth-watering bakery.
Completed in 2020, Snow Peak Land Station Hakuba awaits its first visits from international skiers and snowboarders this winter. It offers an exciting new restaurant, a Starbucks coffee shop, a tourist information desk and a first class retail outlet in an inviting, spacious environment which exemplifies modern art in architectural form. Designed by world renowned architect, Kengo Kuma, it uses local, sustainable materials throughout the interior and exterior to mimic the the outstanding natural beauty of Hakuba Valley. The wooden structure in the ceiling is inspired by snowflakes, and glass walls maximise its stunning views of Hakuba ski resorts.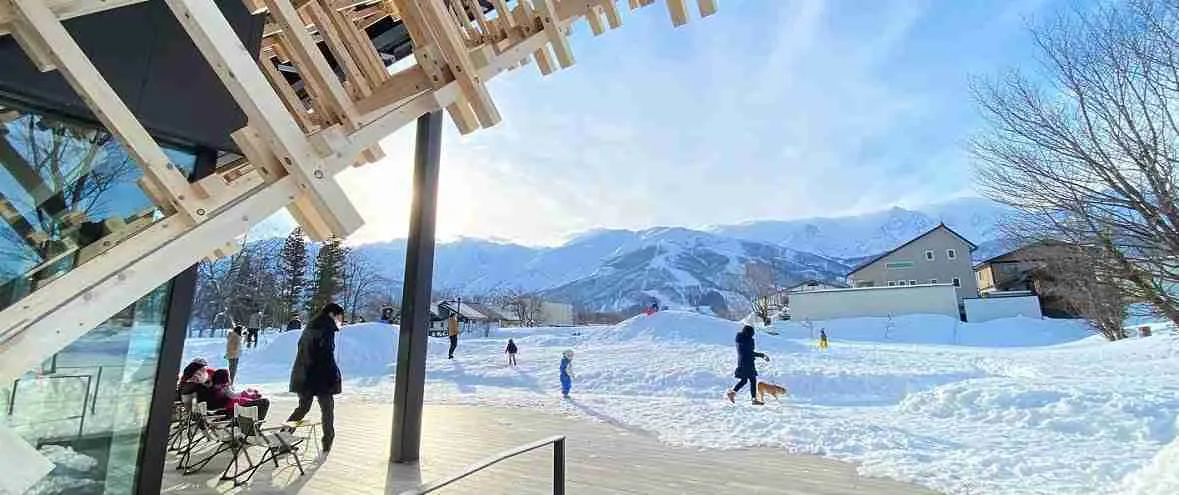 With a central location between Hakuba train station and Happo Village, Snow Peak Land Station Hakuba is a pleasant stroll or short taxi ride from much of Hakuba's accommodation. Perhaps the most stunning feature of Snow Peak Land Station's design is the front terrace, which allows the building to blend with the splendid Hakuba scenery, with views of the Northern Alps beyond. The open-air area outside hosts events regularly, such as a weekly weekend Marche showcasing local vendors, cooking classes, bonfires, and most recently the Hakuba Jazz Festival.
Restaurant
Snow Peak Land Station's restaurant takes pride in connecting visitors to the local area through its dining experiences. With abundant inspiration, from the mountains to the river, dishes are created using ingredients harvested in Hakuba. The cuisine is supervised by Hideki Ishikawa of the famous Michelin star Japanese restaurant "Kagurazaka Ishikawa". It offers both on-the-go lunch sets as well as both course menus and a-la-carte menu, fusing Japanese and French cuisine and featuring dishes served in a special lava stone grill. You can download the menu here.
Snow Peak Store
Complete with sporting goods to get the most out of outdoor activities in Hakuba including equipment and apparel, as well as local specialties such as Nagano area sake and Snow Peak's unique eco cups, the Snow Peak store provides fantastic retail opportunities. The addition of the Snow Peak store is the latest in high end apparel shops in and around Hakuba Ski Resort, joining those such as The North Face Hakuba, Patagonia Hakuba, not to mention others like Montbell Hakuba, Kojitsu Sanso, Yamatoya Hakuba, Rapie, Rhythm Japan Hakuba and Central Snowsports Hakuba.
Tourist Information Desk
For all the information you need in the local area, Snow Peak Land Station Hakuba will provide professional, helpful, English language tourist information. Pamphlets and local area maps are also available.
Opening Hours: 09:00 – 17:00
Tel: 0261-85-4210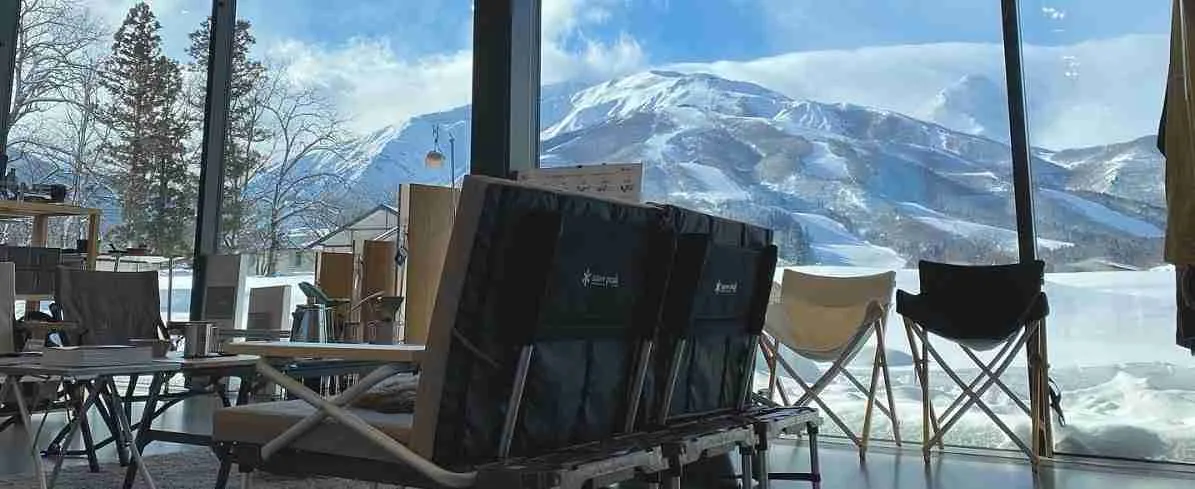 Hakuba 'glamping' has also become quite popular in recent years. The Snow Peak complex also features glamping-style accommodation options, where guests can choose between luxury-style 'dwelling box' or tent, and can easily hire everything they need without having to pack their own camping equipment and gear. Those staying will also have use of the next-door Mimizuku Onsen, which is of course a real treat.
With a fantastic outdoor apparel retail shop, high-end restaurant, cafe, information center and lots of space to play outside, the Snow Peak Land Station Hakuba is well worth a visit on any Hakuba ski holiday.