Hakuba Ski Resort has a lot to offer in terms of accommodation styles; from trendy apartments, to luxury chalets, to Japanese-style hotels; all with their own special offerings, like ski-slope access and high-end espresso machines. There is one particular amenity however that always seems to be in high demand. And thanks to the geothermal activity in and around most of Japan's ski resorts, many accommodations in Hakuba are able to deliver exactly what guests are looking for: an accommodation with its own onsite onsen, or natural hot spring.
We have put a list together of Hakuba accommodations with in-house onsen, Japanese-style bath, or Jacuzzi to help you choose the perfect Hakuba accommodation with hot spring for your stay.
Hakuba Hotels with Onsen
Located in Hakuba Echoland, Courtyard Hakuba is one of the few Echoland accommodations with onsen. The hotel offers both indoor and outdoor bathing pools.
One of the more well-established Hakuba hotels, Tokyu Hotel onsen is fed from Happo Onsen waters, and offers both indoor and outdoor baths.
The high alkaline waters at Mominoki Hotel onsen are meant to be the purest and richest in the area, and best for your skin (ph 11.34). Mominoki Hotel has both indoor and outdoor baths.
Perhaps one of the most picturesque resort hotels in and around Hakuba, Sierra Resort Hotel is a special gem. Located between Hakuba Iwatake and Hakuba Tsugaike resorts, Sierra's indoor-outdoor onsen baths offer stunning views of the northern Japan Alps.
The wonderful ryokan-style Hakuba Hifumi Hotel, located in Happo Village, not only has a lovely onsen within the ryokan itself for guest use, but also has room types with private outdoor onsens, providing a truly unique and Japanese experience along with 5-star hospitality.
Hotel Taigakukan is a charming and historic ryokan (Japanese-style inn) offering guests a traditional experience and home comforts. The hotel is located in Happo Village and has onsite onsen facilities.
Recently renovated, Kokoro Hotel Hakuba was previously a Japanese pension-style hotel and has completely revamped facilities including indoor onsen. Kokoro Hotel is a wonderful choice for those who want easy access to the lifts and village amenities, but are looking for something easy on the wallet.
The Happo Hotel, in Happo Village, has an in-house onsen as well as steam sauna and Jacuzzi for guest use.
While Phoenix Hotel Hakuba's waters are not true mineral waters, the lovely hotel does have an indoor ofuro bath facility as well as a steam room that guests can book privately.
Hotel Green Plaza Hakuba Cortina
Located in Hakuba Cortina Resort, Hotel Green Plaza has a stunning onsen that overlooks the mountains. The onsen is open to the public for a fee but free for guest use.
Just a short walk from the Happo One lifts, the centrally-located budget-friendly Hakuba Panorama Hotel has inside onsen facilities for guest use.
Hakuba Chalets with Japanese-style Bath
This luxury 7-bedroom chalet which sits at the base of Happo One resort, enjoying immediate lift access, has a superb Japanese-style bath that looks out to the powder beyond.
Powderhouse 6 bedroom chalet in Hakuba Goryu Resort has a marvelous stone tub that looks out onto the pristine countryside beyond.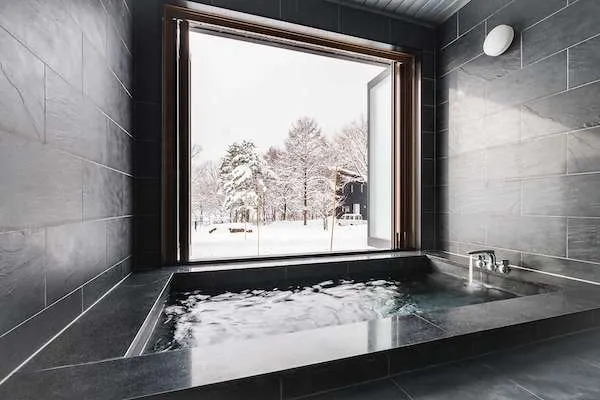 Offering a true Japanese experience, the 5 bedroom Hakuba Mountain Lodge has a bathroom with 2 hinoki (wooden) bathtubs for a social dip at the end of the day.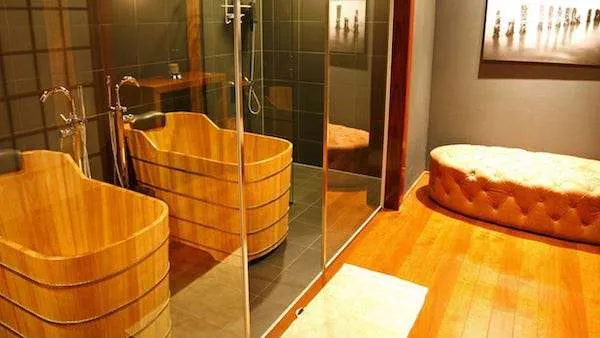 Alpine Tenshi Villa is a 3 bedroom Hakuba ski-in-ski-out chalet at the foot of Hakuba Goryu Resort. The lovely and cozy chalet has a Japanese-style bath for a satisfying dip after a day on the slopes.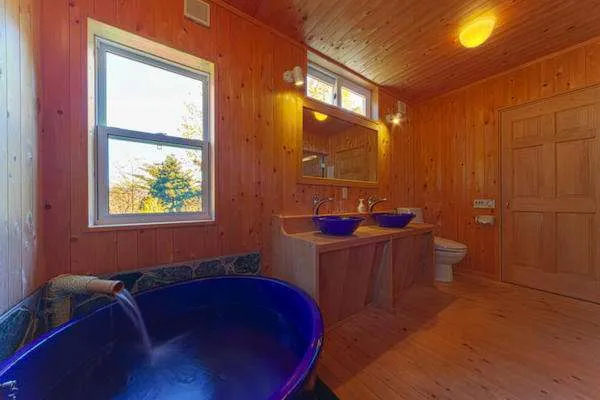 The beautiful bathroom at the new Kairos by the Mountain 3 bedroom Echoland chalet features a wooden tub and lots of room to spread out.
Phoenix One Chalet
A spectacular Japanese-style bath overlooks the Wadano forest from expansive windows at the stunning 4-bedroom Phoenix One Chalet.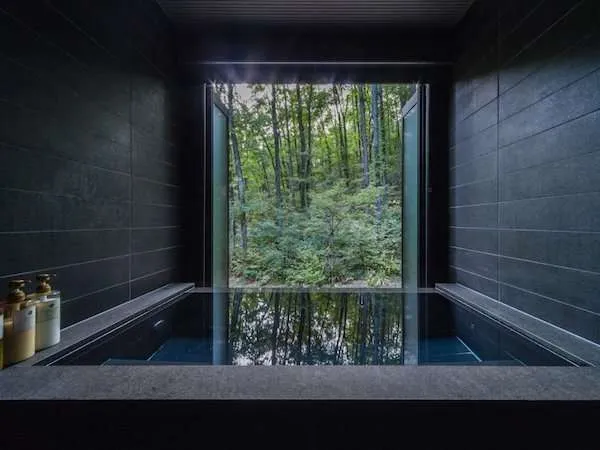 Alpinarc Chalet Hakuba
A brand-new 6-bedroom luxury chalet in Hakuba Echoland, the Alpinarc Chalet has a wonderfully large open-air wooden and stone Japanese-style pool.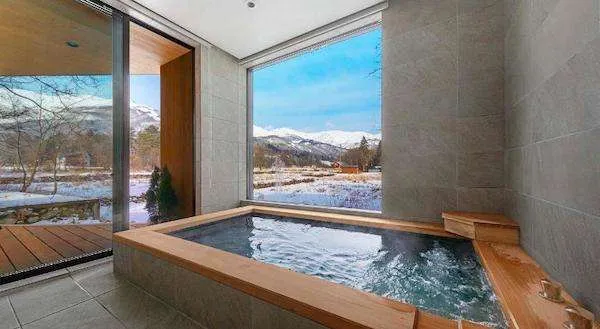 Courtyard Hakuba
In addition to the in-house onsen and spa, Courtyard Hakuba also offers guest rooms with private Japanese-style baths.
Hakuba Accommodations with Jacuzzi tub
Shizuku Villas
Set in a quiet part of Happo One Resort, Shizuku Villas offer guests a luxurious Jacuzzi tub.
The beautiful 3 bedroom Phoenix Cocoon Chalet has a lovely Jacussi bath allowing guests to soak after a day on the slopes while overlooking the Wadano forest.
With guests' comfort in mind, Chalet Nivia Hakuba has an oversized Jacuzzi tub to complete your luxury stay in this 3-bedroom stylish chalet.
Looking to plan your Hakuba holiday but don't know where to start? Get in touch with us to help you choose the perfect Hakuba apartment, chalet, or hotel for your stay.
The pinnacle of luxury, One Happo Chalet Hakuba has a completely private 8-person onsen within the private luxury chalet.